Toyota Coaster Conversion
A diary about converting my Toyota Coaster school bus into a motorhome.
Purchase
5 Feb 2019
There was always the idea in my head to build a tiny house or a convert a van. A tiny house needs a piece of (expensive) land to rest and a van offers not enough space to really live in it. Both ideas were very tempting but somehow not really ideal for me.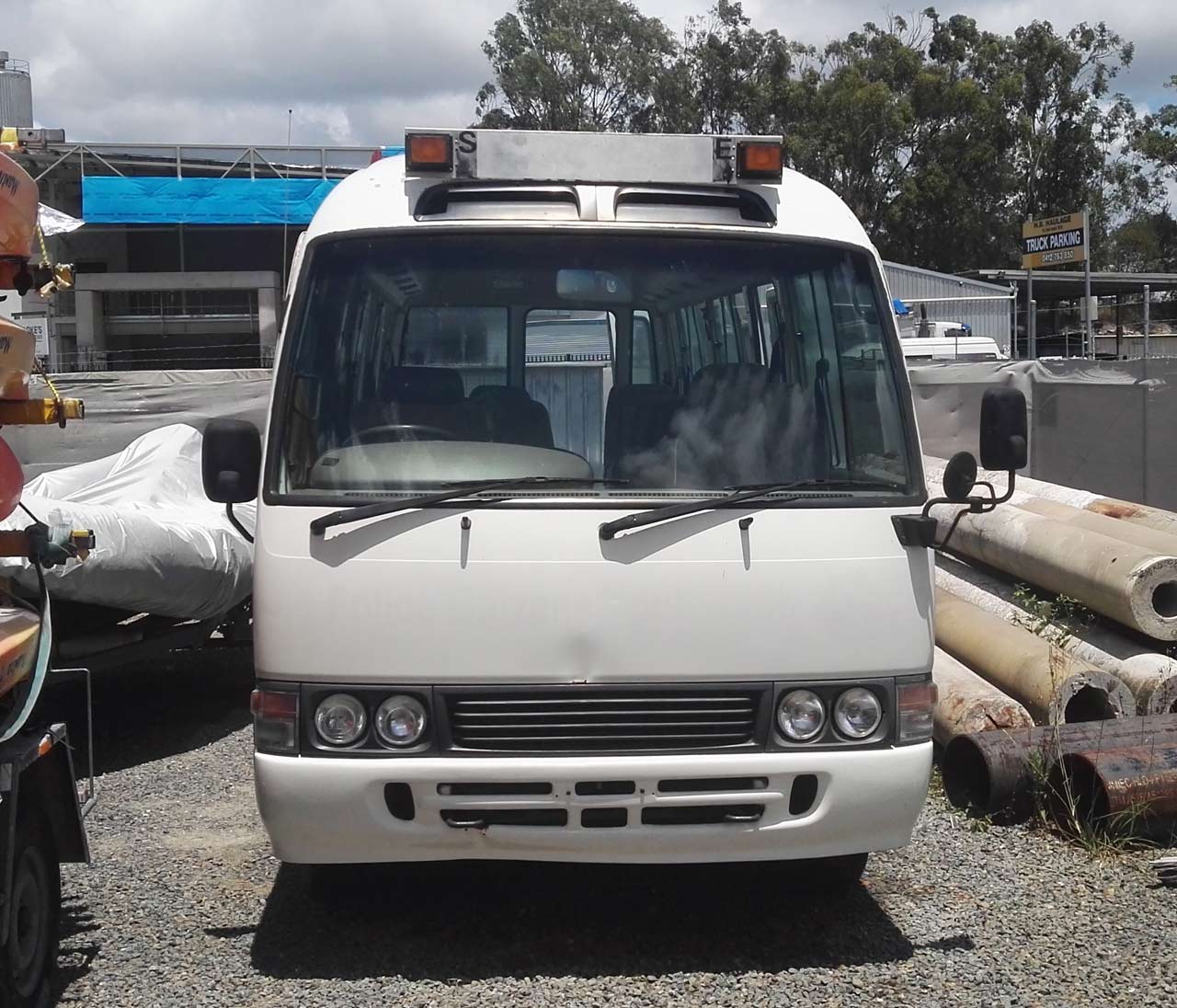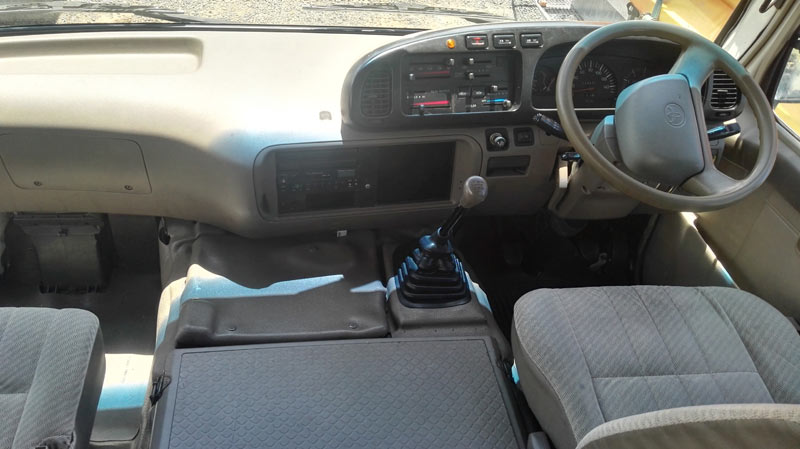 But then Phil Barlow, a friend of mine, bought a bus and turned it into his home. Once I saw his bus I got very interested. I browsed the internet a bit and stumbled over this old "Caboolture Police Youth Club" bus. A Toyota Coaster 22 seater. 7m long. It was only 30 minutes drive away and overall looked like a good bargain: 1999, a bit over 300.000km, $15.000.
I hesitated a little while but then realized that there is nothing to loose here. I could always sell it if it doesn't work out.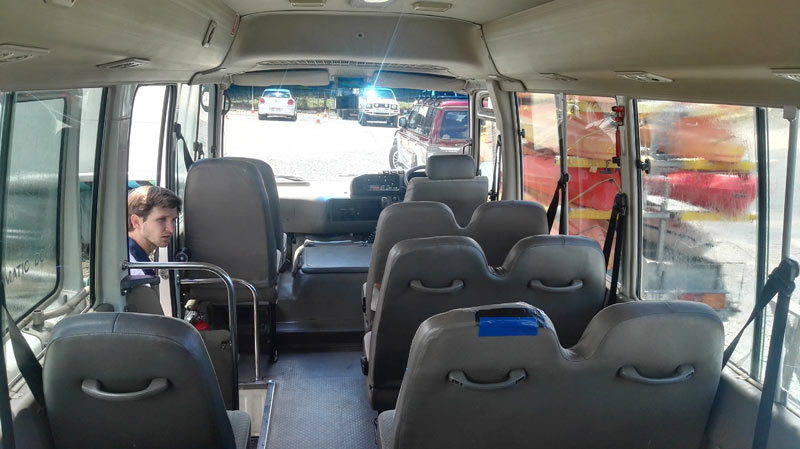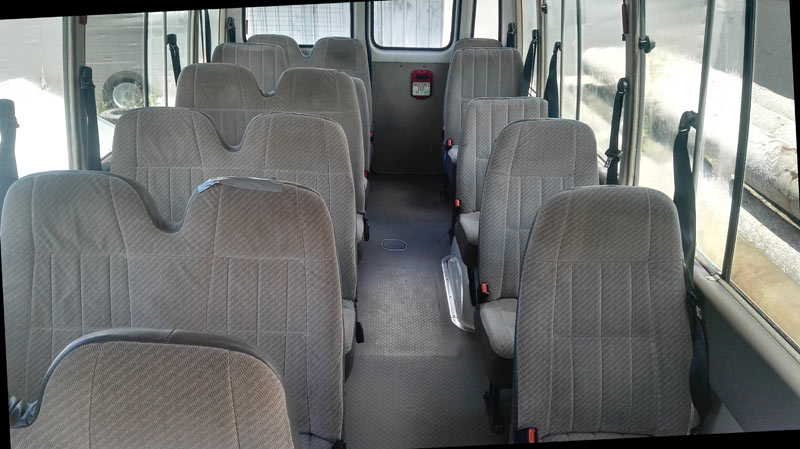 Get her registered
18 Feb 2019
Because the bus has a maximum weight of 4.99t, I would have needed a special licence to drive it. After a bit of research I found out that most people get it "down-graded" to a 4.49t light vehicle that can be driven with a normal licence. So I had to take all seats out, put a temporary bed in and got an engineer to certify it as a 3-seater motorhome.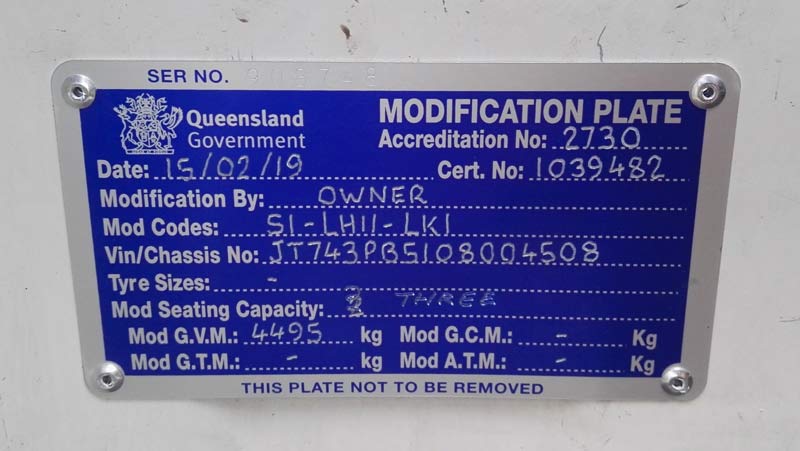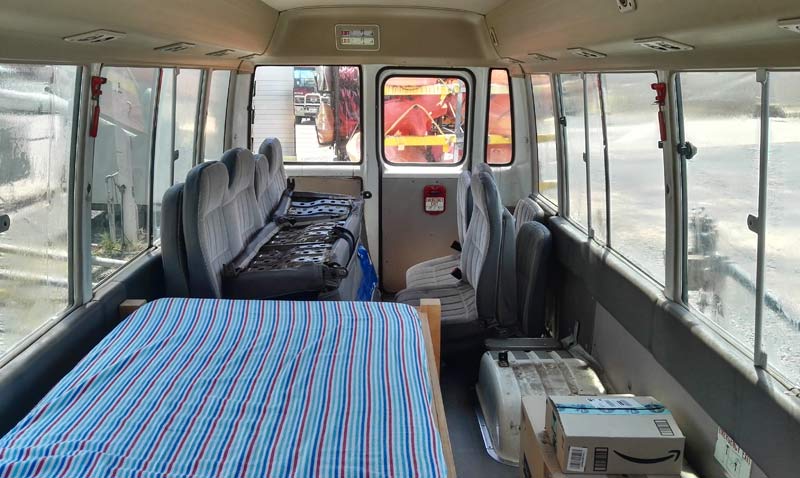 First day at home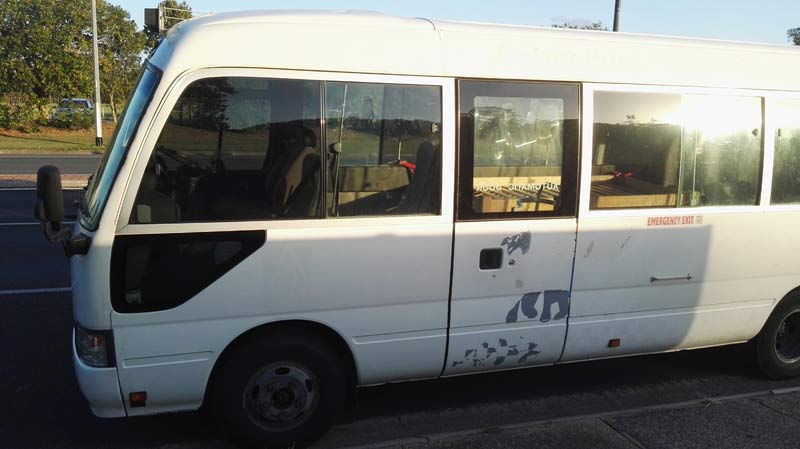 20 Feb 2019
First day home. I took these photos and sent them to an insurance company specialized in motor-homes and camper vans. It wasn't too expensive to get comprehensive insurance.

Not too much rust on the bus either but parts of the paint came off when the previous owners tried to take of some stickers.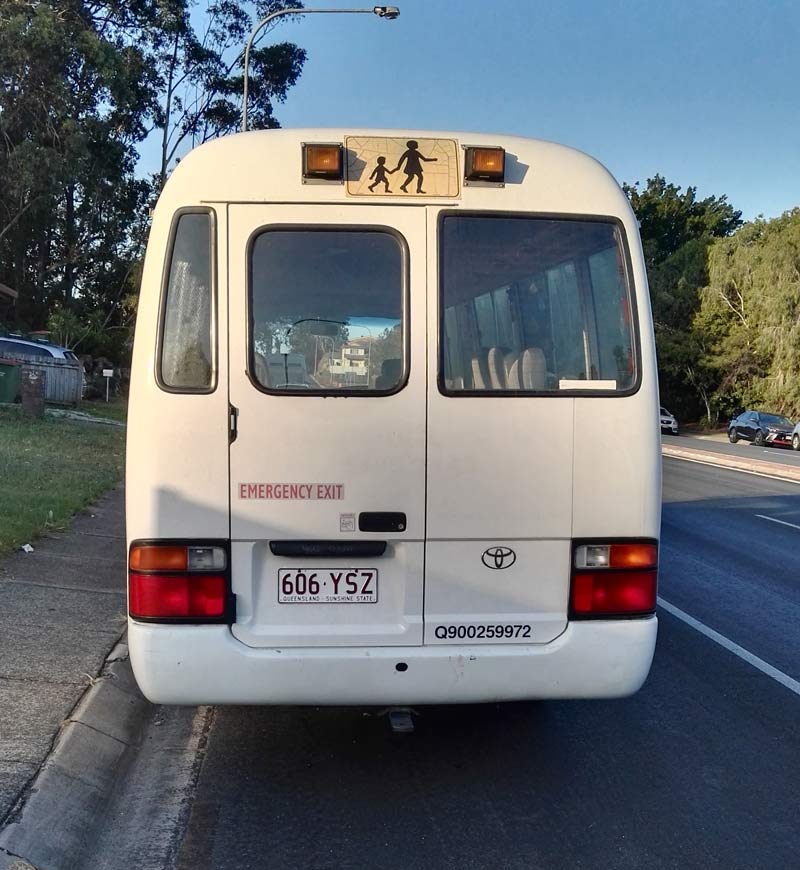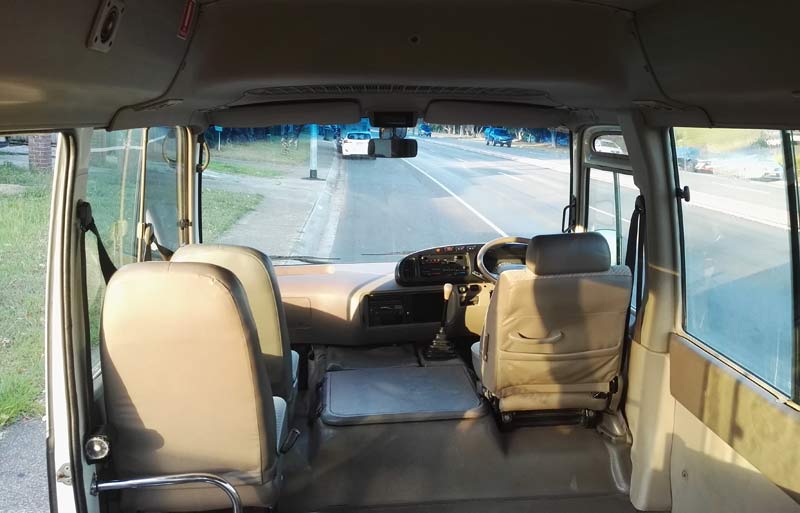 Couch and Guest Bed
Here is a section of the bus where I tried to figure out how to best fit furniture to the walls. I'm using 4 mm plywood sheets and dressed timber. The lower timber is fixed with M 10 screws to the threats where the seats where mounted. This should be very solid. There are also threats on the floor I can use.
The Floor is just a simple 12 mm plywood. I replaced the old vinyl with commercial grade vinyl planks. This seemed the best option. I would have liked to put some real timber in it but the height of the bus was already just high enough for me to stand.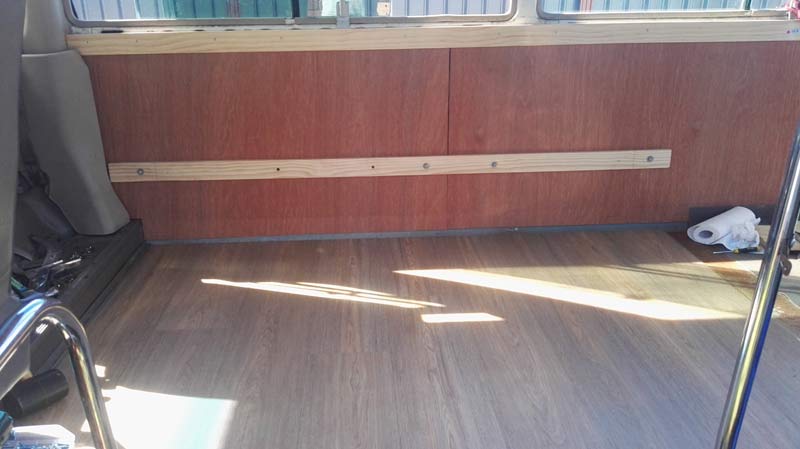 The couch can be used as a guest bed.
Below two drawers on wheels.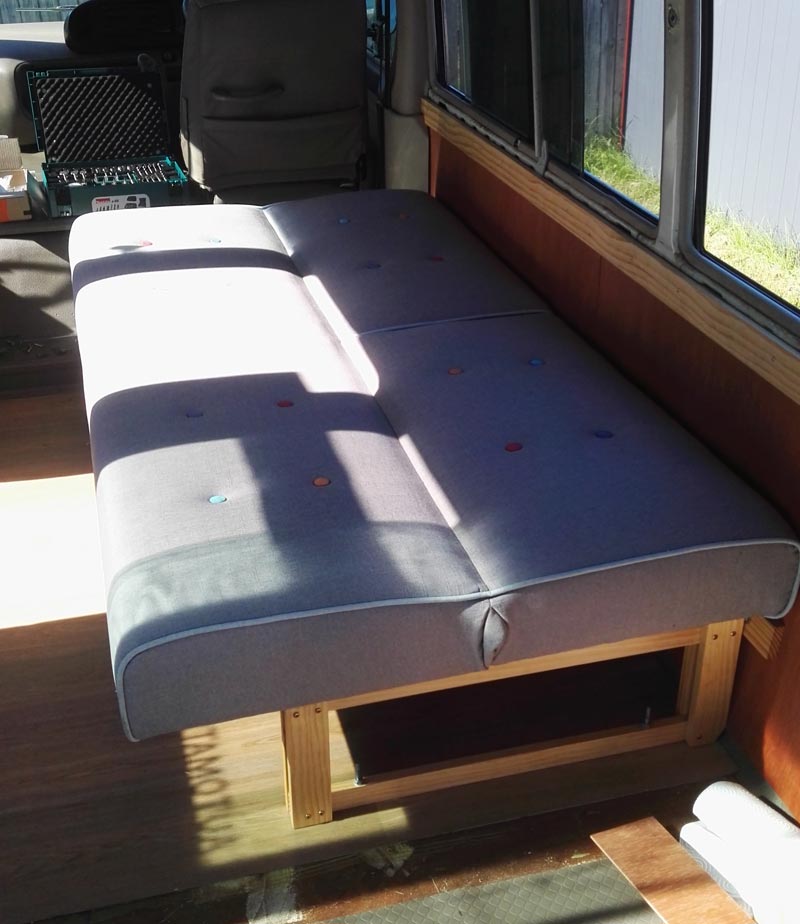 I found these cheep stainless steel hooks online. The handles are from bunnings.
The wood is treated with natural linseed oil. This gives some basic protection and brings out the texture. I might finish some exposed parts with bee wax to seal them off. Bee wax is one of the most resistant substances on the planet.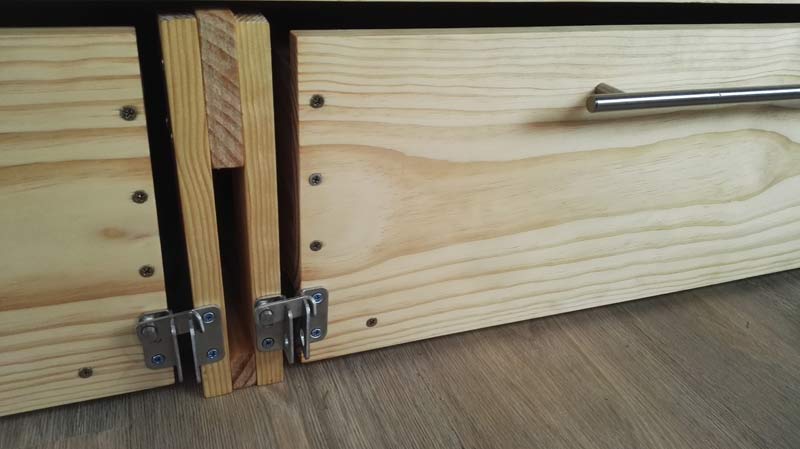 Floor and Water Damage
Turns out the left side tail light was leaking and the last plank had some serious water damage. It had to be replace. Underneath where some patches of rust. Most of the rust just traveled from a few spots and could be wiped away. I treated all the rusty bits with rust converter and painted them with primer and enamel. I should have done that before I put the floor in but I thought I could ignore the rust as there was only a little bit visible inside.
The new marine grade water resistant plywood. I also treated it with good old linseed oil. You can see the neat and tidy white metal beams after rust treatment.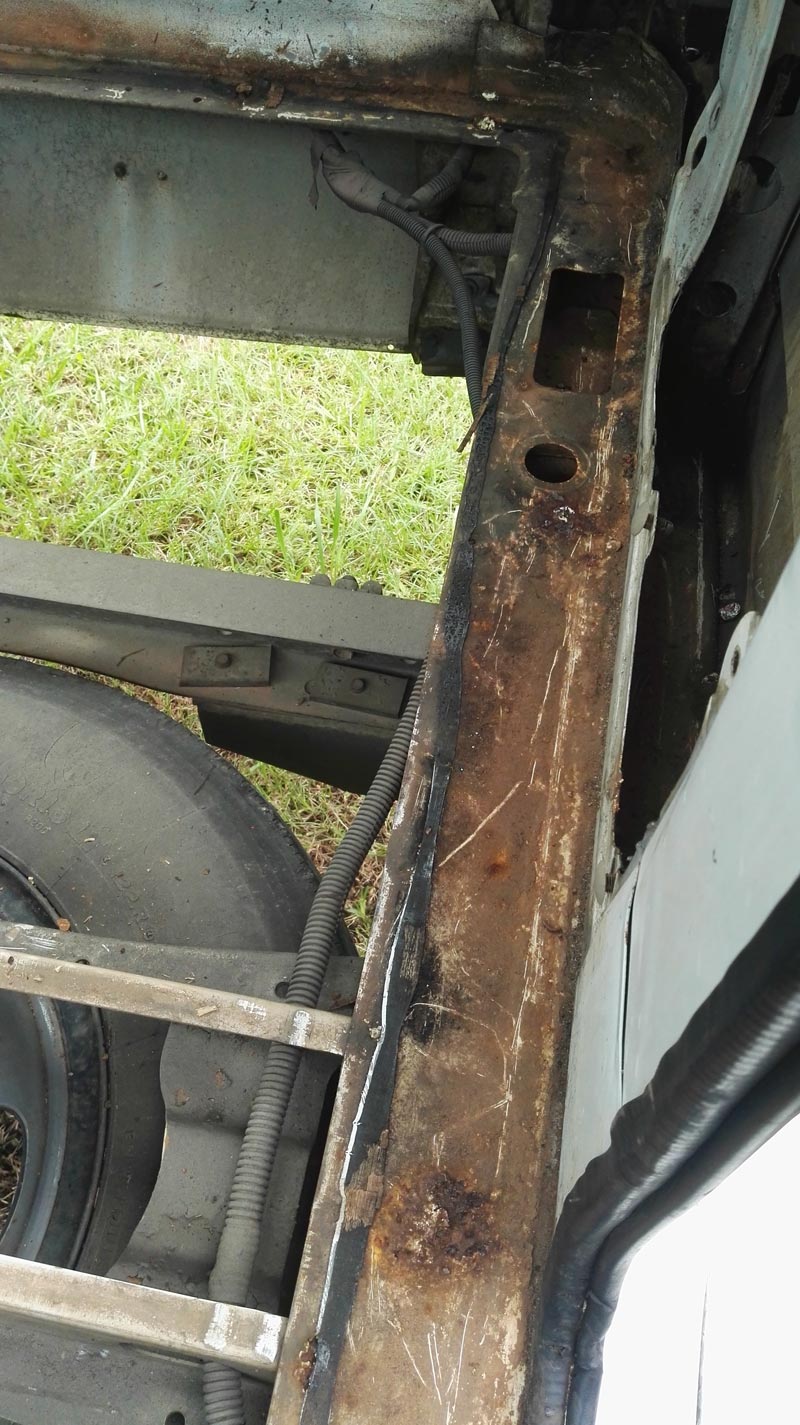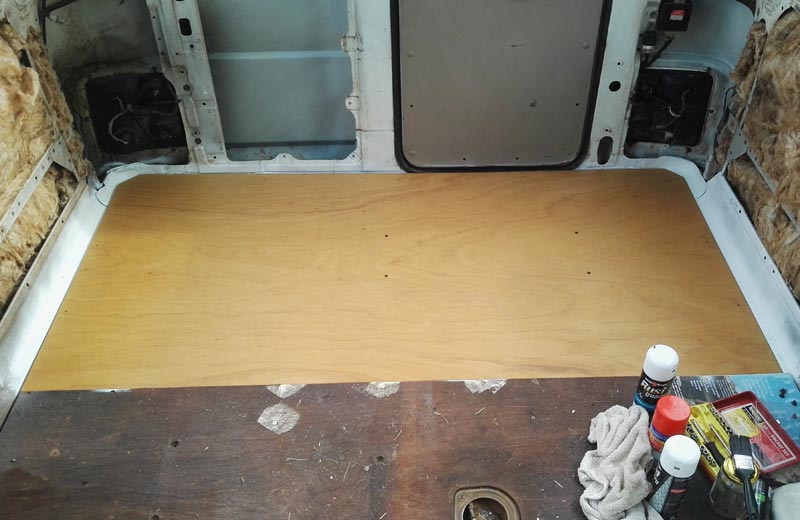 The plywood after I ripped it out. I had started to close the holes but then decided to replace it.
The finished vinyl floor and the partly spray painted wheel guards. I also gave most of the interior metal parts a good clean. Better not to have dust from the last 20 years behind the panels. I should have done all this before I put the floor in.
I am insulating the bus interior with Earth Wool from Bunnings. A pack is about $ 70 and it will last for all parts. When insulating it's important that you leave no gaps. This type of insulation is much better than solid sheets.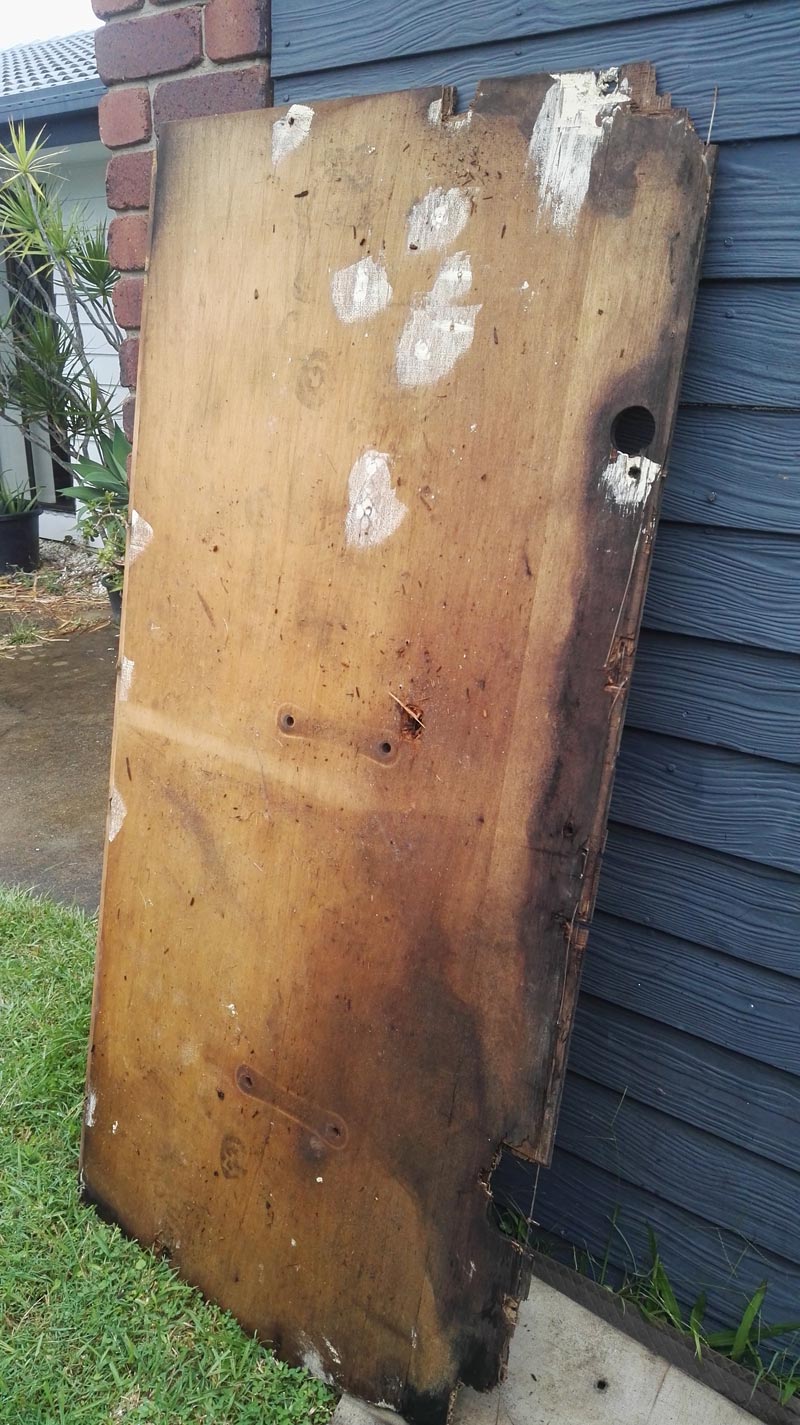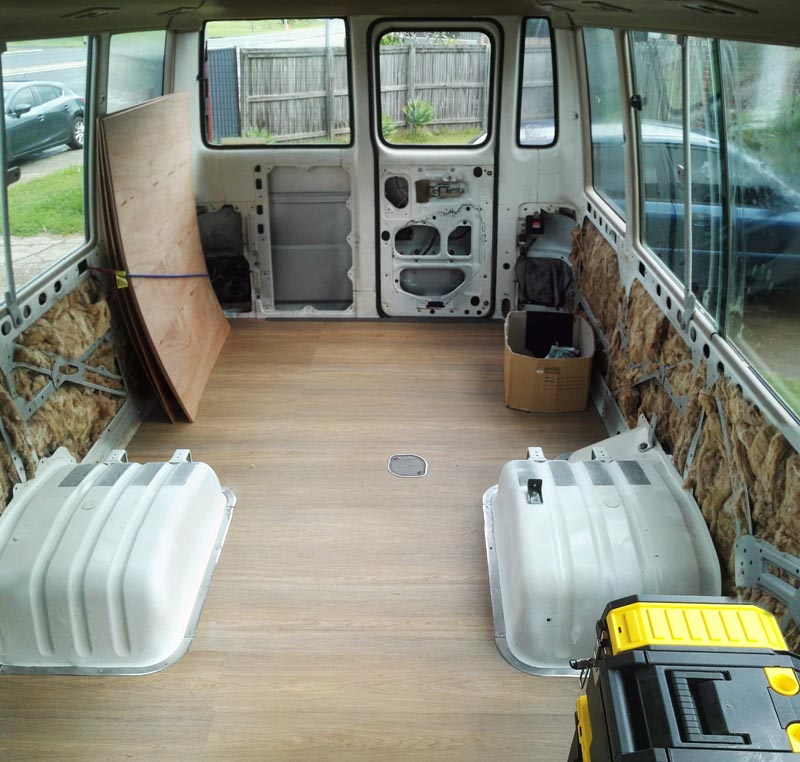 The bus with the large hazard lights removed and with most window tint removed or replaced. This was the most annoying task so far. Getting the old tint off is a pain. I also found out that the new tint might not be the best. It looks good from the distance ;).
The windows will be either behind cupboards or will have fly screens so I'm not too fuzzed about the tinting.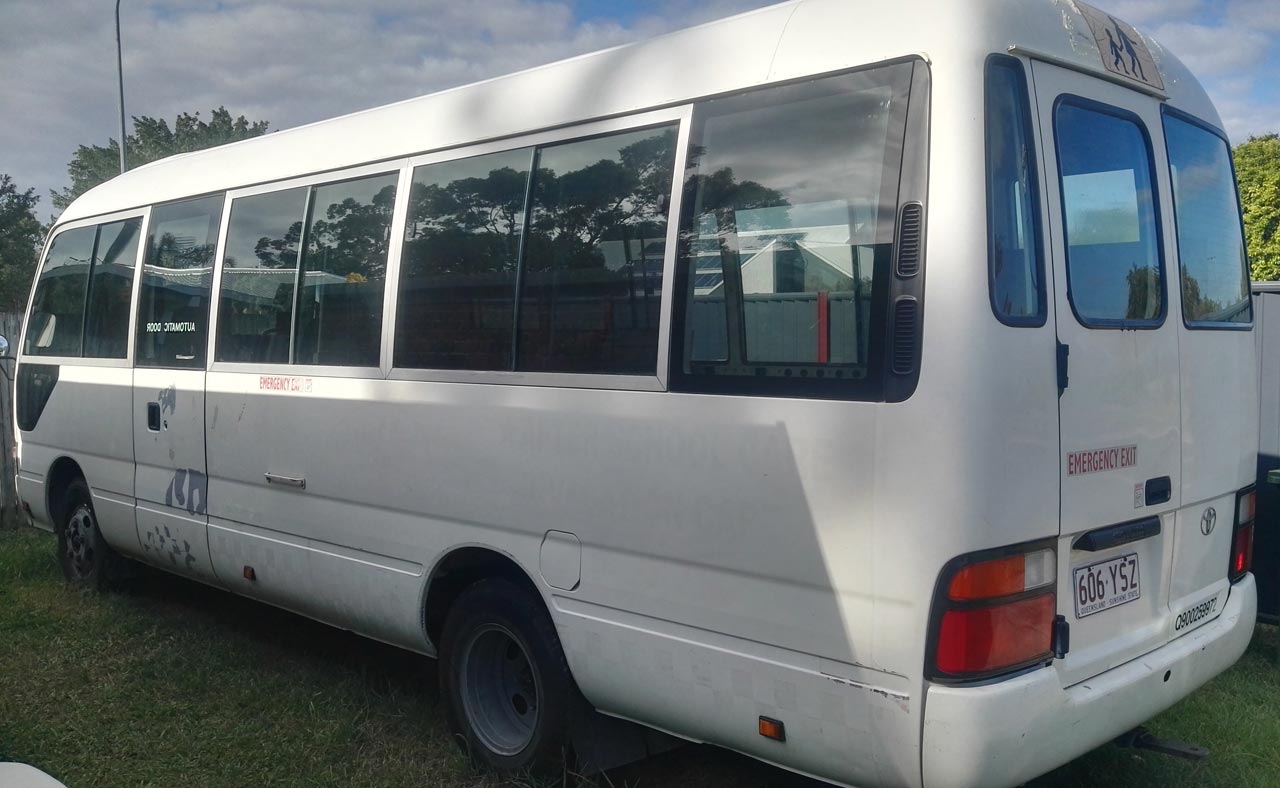 Starting with the Kitchen
Now that the floor is in I can actually start thinking about the rest of the fit out.
I used 3ds max to plan the interior. It would be silly to waste any space. Storage will always be very valuable. So I figured out what I need in the kitchen: A fridge, a gas cooker, a sink and a microwave. I decided against an oven as they are very expensive, still look a bit flimsy and take a lot of space.
I'm using pine as much as I can. It is cheap and I can get it in many sizes as dressed planks. I don't have proper joiner machinery so I need to rely on screws a lot. The three structures under the bench top are the main support for the kitchen cabinets. They are fixed to the old seat belt threats and to the floor. It doesn't move a bit. Better a few screws too many than not enough.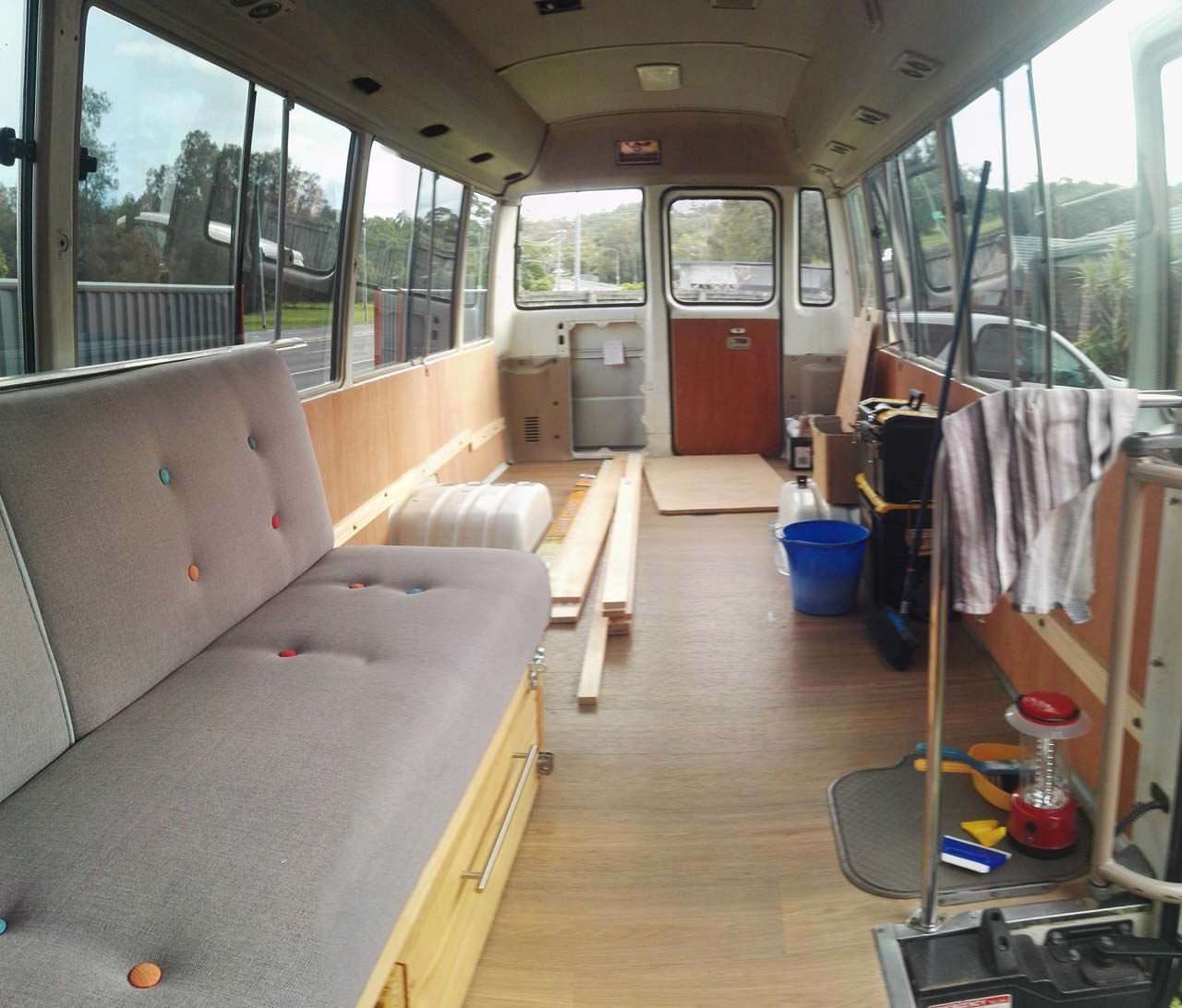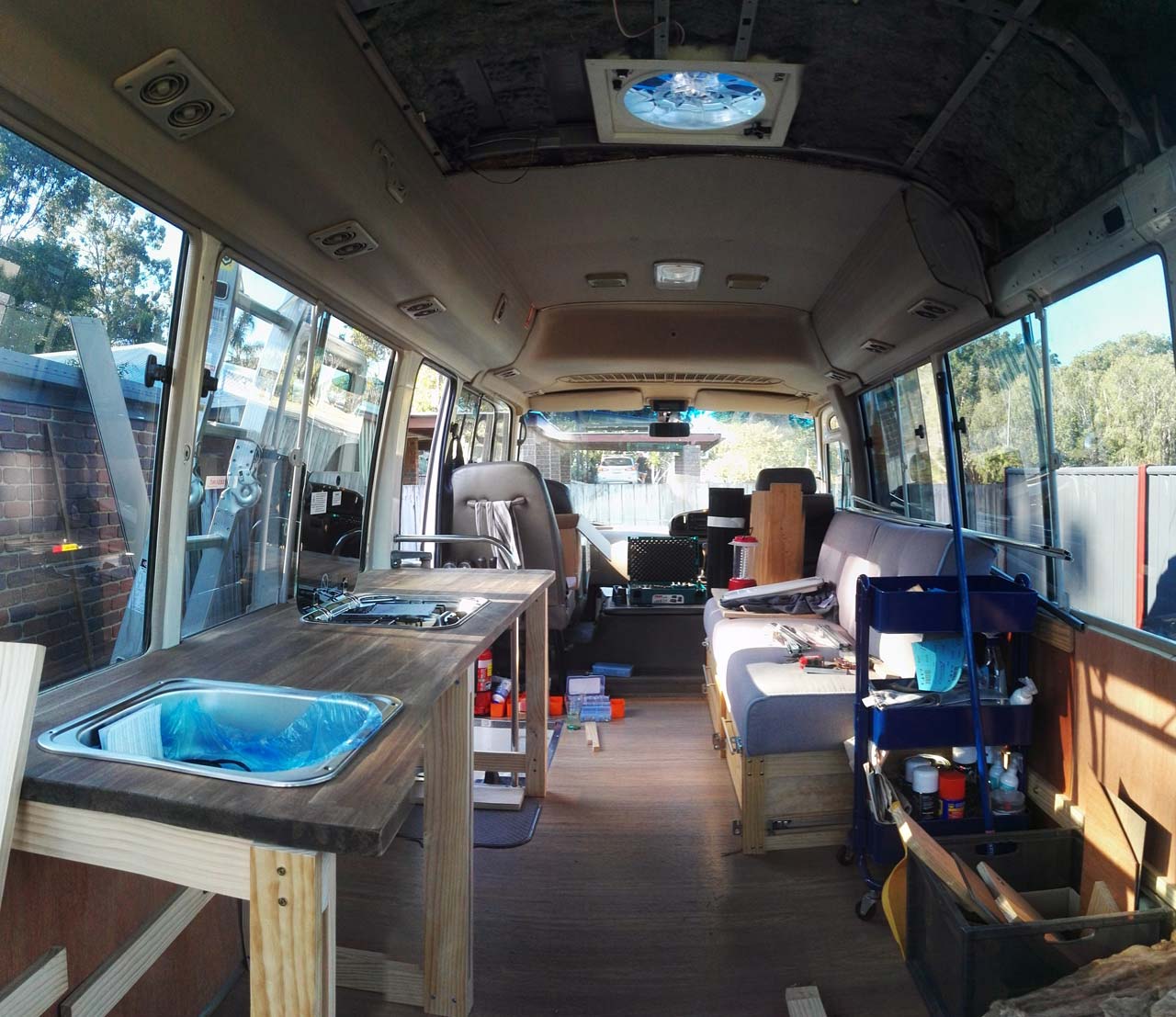 Meanwhile I found these gate locks to keep the couch in upright position.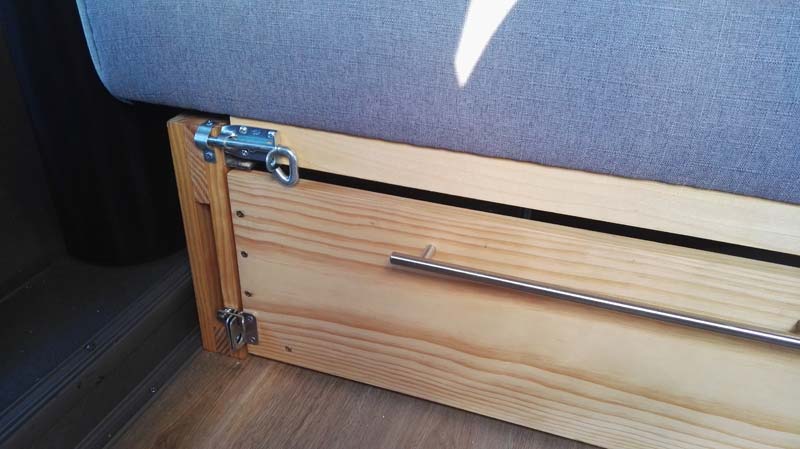 The dual gas cooker with some cast iron pot I bought. Probably not a great choice as the pot is very heavy. But I like it.
A cheap Chinese fan from Ebay. It already is a live saver when the sun comes out. I moved the original light to the side.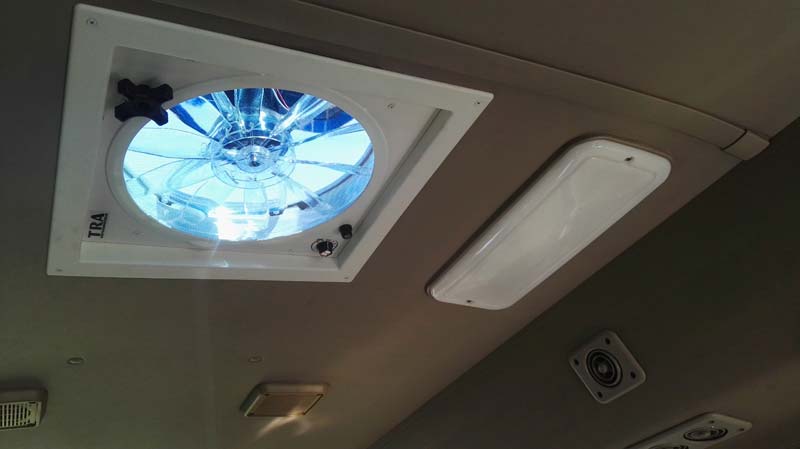 Test Drive to Brisbane
I did a bit of body work while waiting for the gas bottle box. I closed the whole and treated all little rust bits on this side. Then I used putty to smooth out where the paint came off. It's not the original paint so you can see where I spray painted it. The little things you learn while doing it. I don't want it to rust and hopefully the enamel spray paint will do just that. Let's say it will have a bit of character.
I haven't decided yet if I will use the original paint for the side or the same white enamel. The enamel is a bit harder. The original water based paint will take a lot longer to get hard.
I went to Brisbane to get the shower, toilet and sink as well as the gas bottle box. You can't have any gas bottles inside. They need to be sealed off and only accessible from the outside.
The bus did run very smooth. After all it's a Toyota and with only around 300.000 km on the clock it hasn't traveled too much for a bus.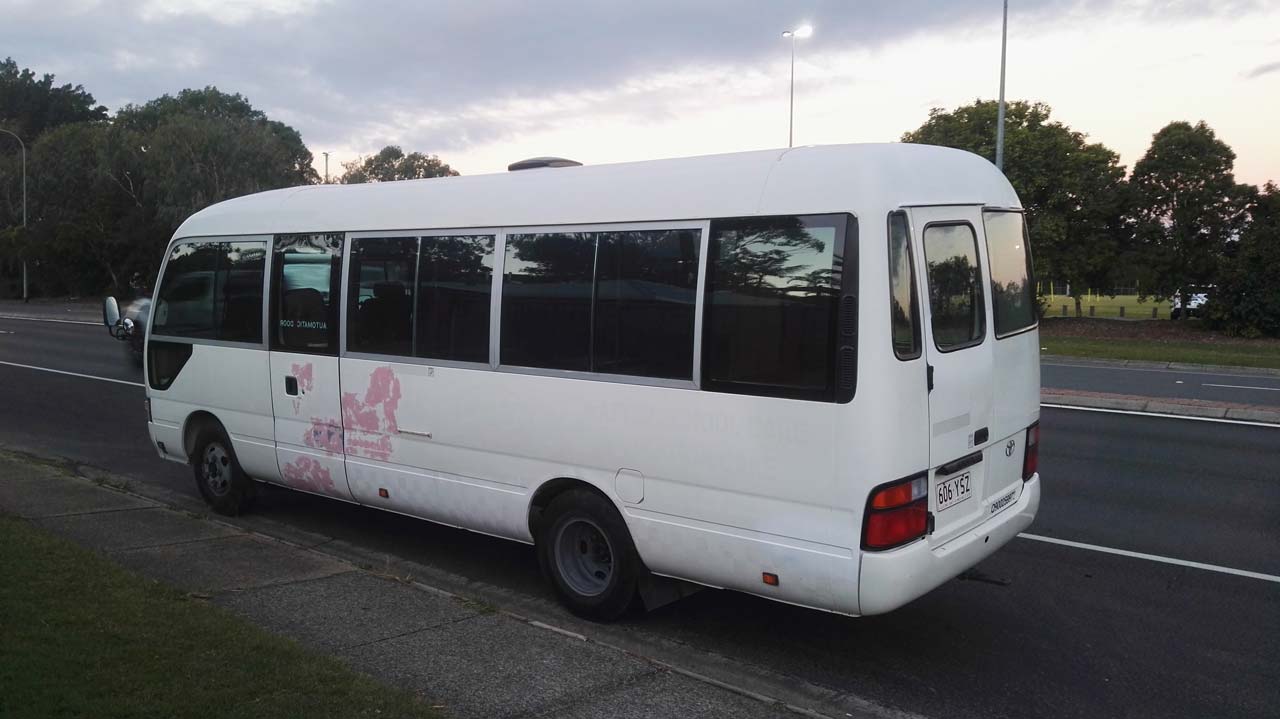 Gasbox and more Work on the Kitchen
The gas bottle needs to be in a sealed box. It can't be inside the bus by regulations. It's a box for 2 4l gas bottles. Probably one bottle would have been enough. I had to cut a pretty big hole into the side of the bus. From my engineering background I deemed it save. Because of all the windows the chassis sits on a strong frame.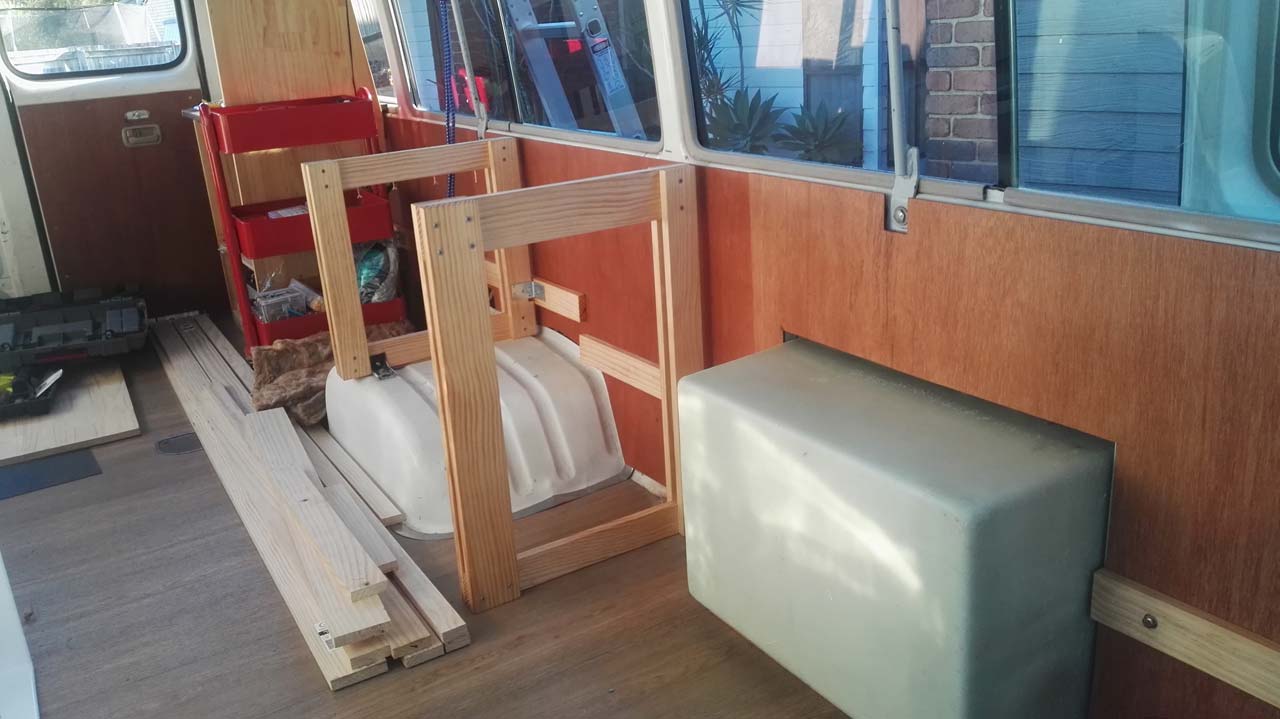 After all that rough metal work I needed to make something nice. So I made a drawer and a pull out table. The hardware for the drawers is pretty cheap now. I remember it being very expensive a few years ago.
12V, USB and 220V power points.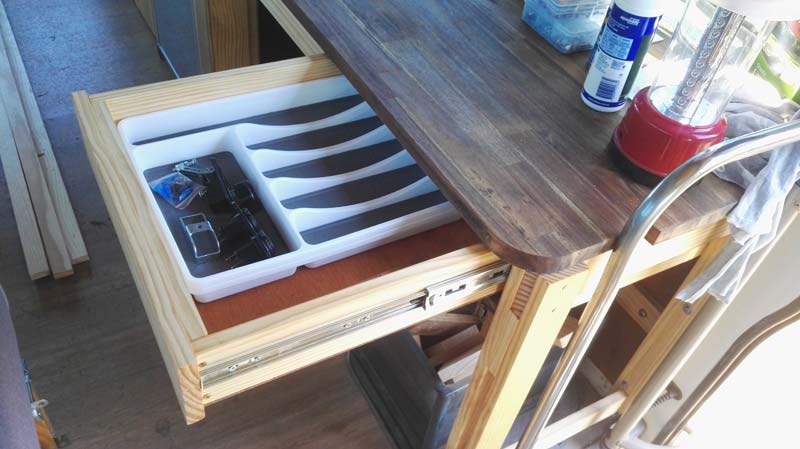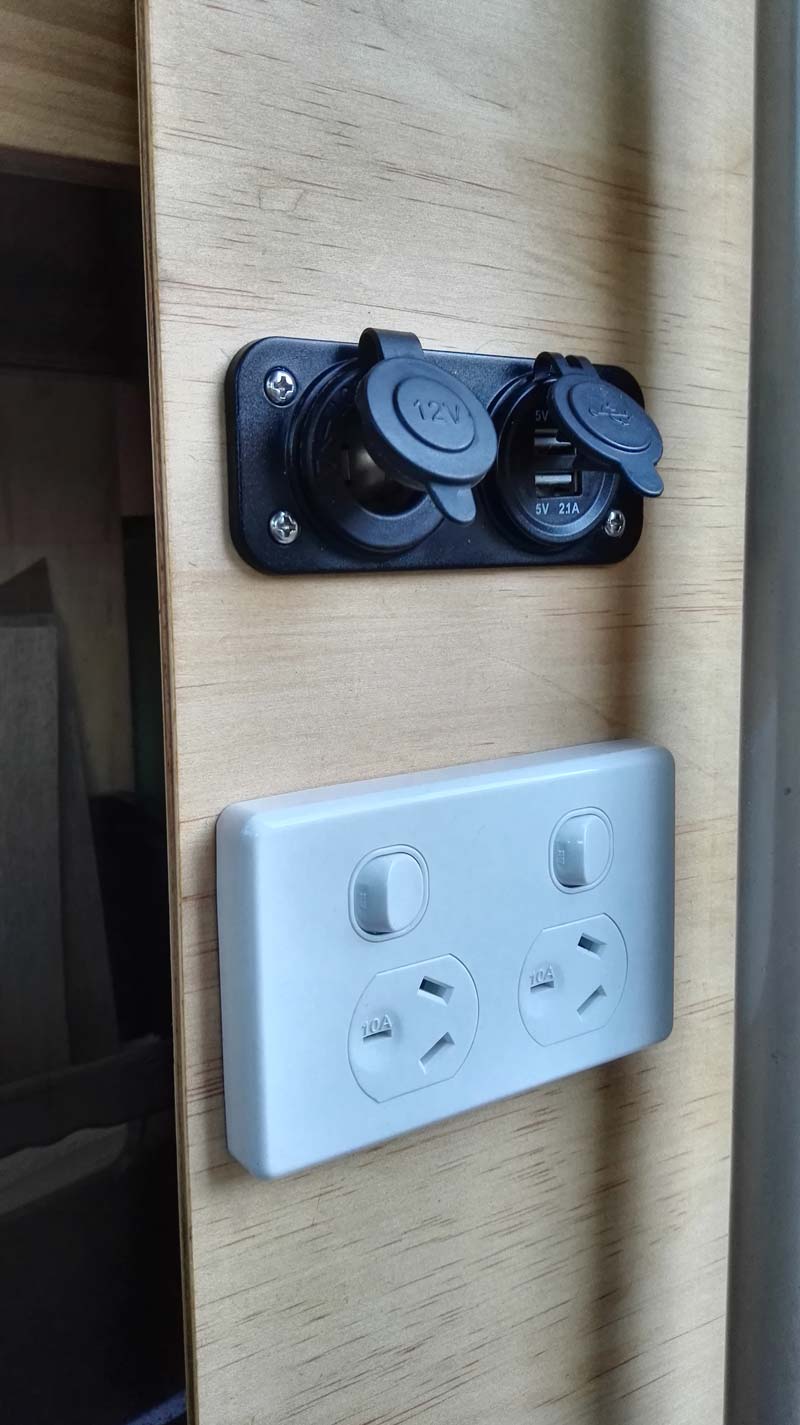 Solar
The power centre in the back of the bus. The very heavy batteries at the bottom and the solar regulator and a inverter above. Nothing connected yet.
I only put 2 solar cells onto the roof as a start. They have 160 Watts each and are connected in a sequence. The other 2 will be connected in a sequence too and then both pairs go parallel into the MPPT regulator.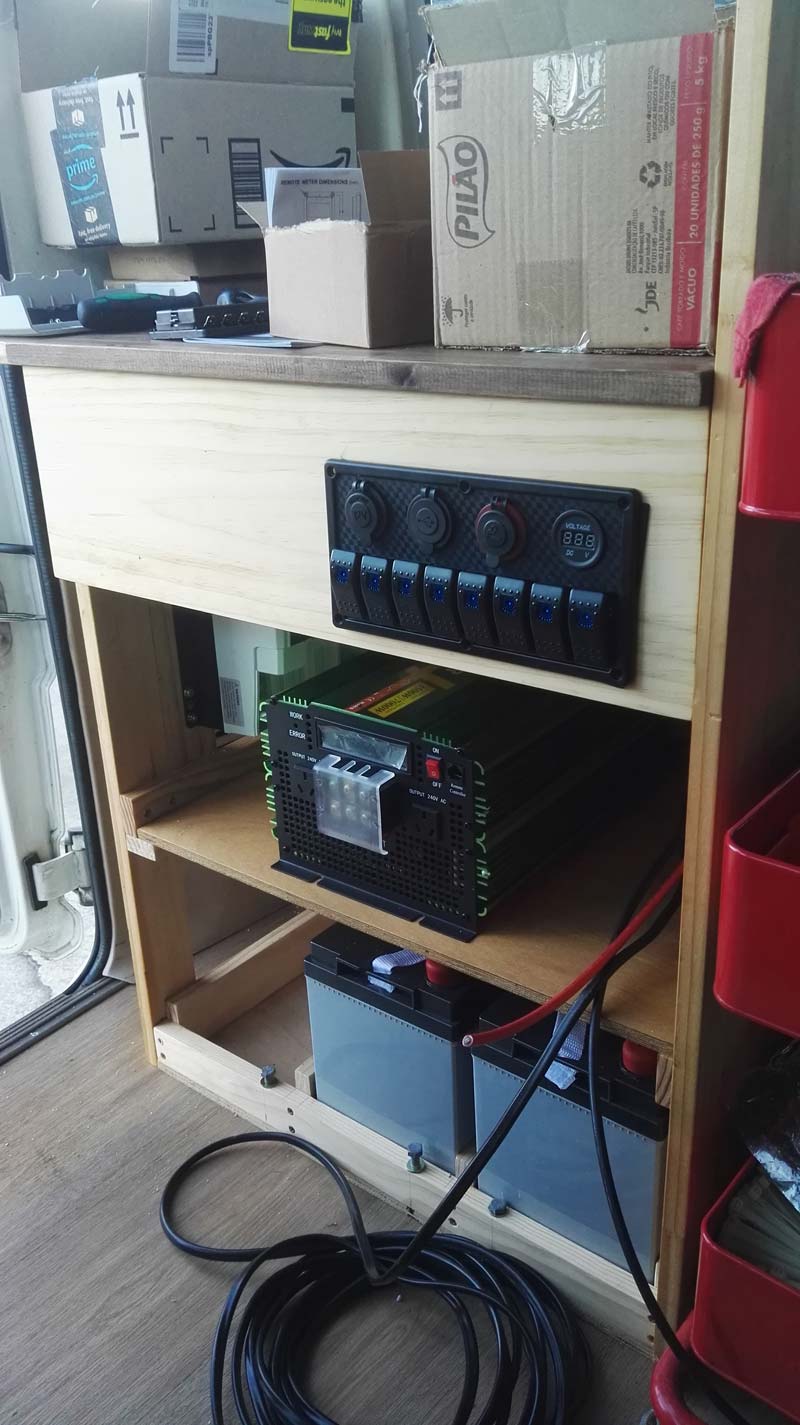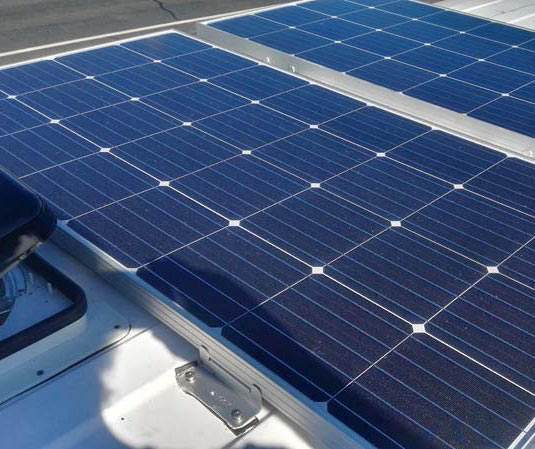 The MPPT controller being live. The solar cells produce about 40 Volts of current and a maximum of about 580 Watts. That makes it 580/40 equals roughly 15 Amp. Having lower voltage would mean higher Amps and would require thicker cables.
Toilet and Shower
The shower module I bought from a company in Brisbane. It's custom made to fit into the Toyota Coaster.
It is not very heavy but I fixed it to the chassis and floor on at least 6 points. The door will also stiffen it out.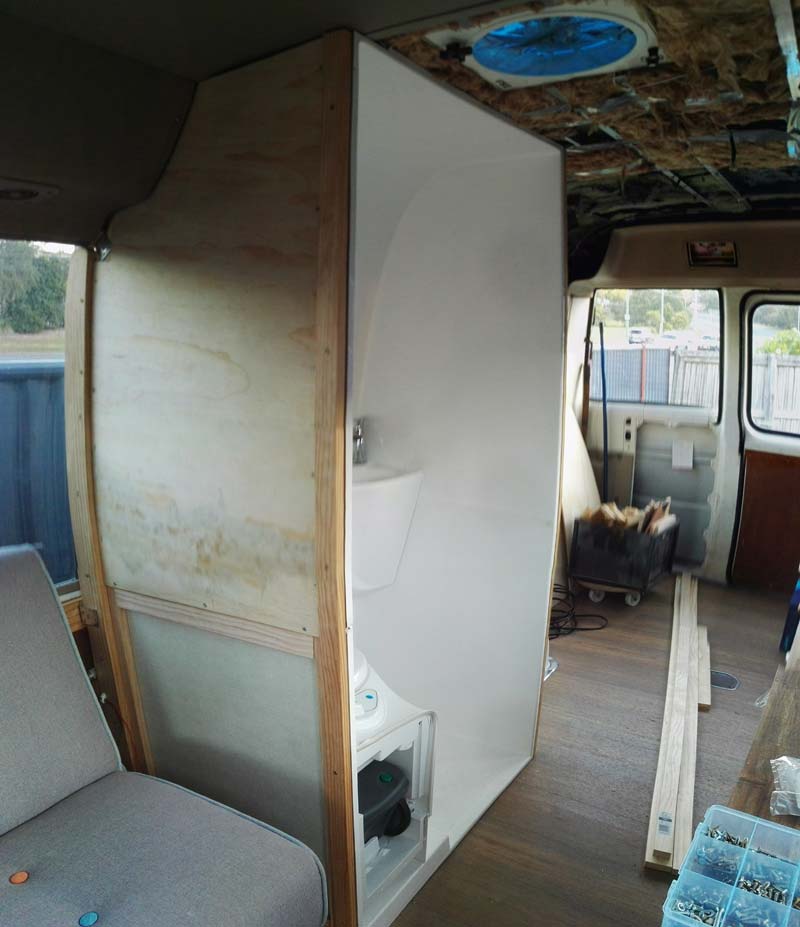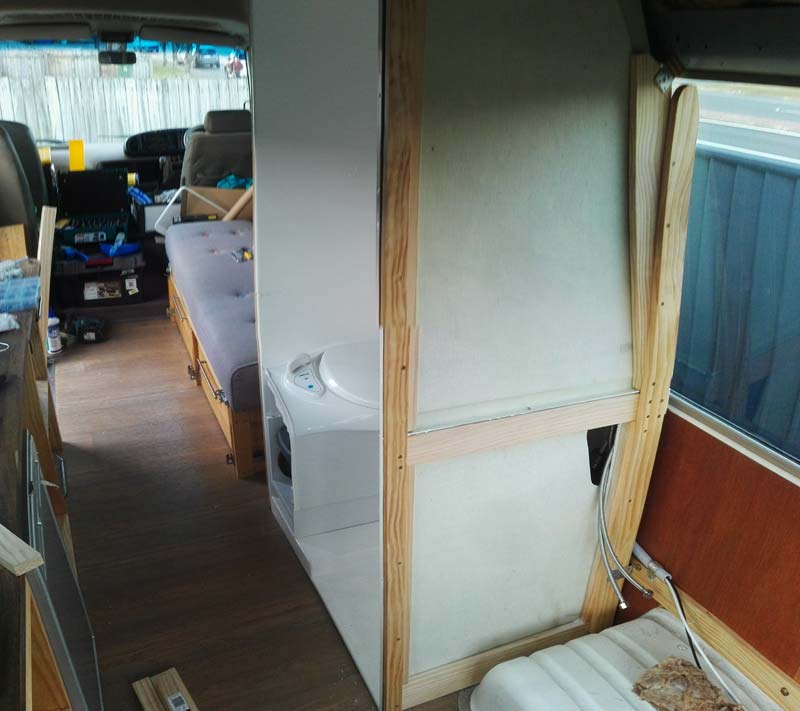 It came with a cassette toilet and a little corner sink. The tap can be pulled out for quick showers. I didn't want to mess around with sealing more than necessary. It was expensive but hopefully it is worth it.
Another hole to cut into the bus side. This time it was a bit easier. I sealed it with rubber only and it has been tight so far.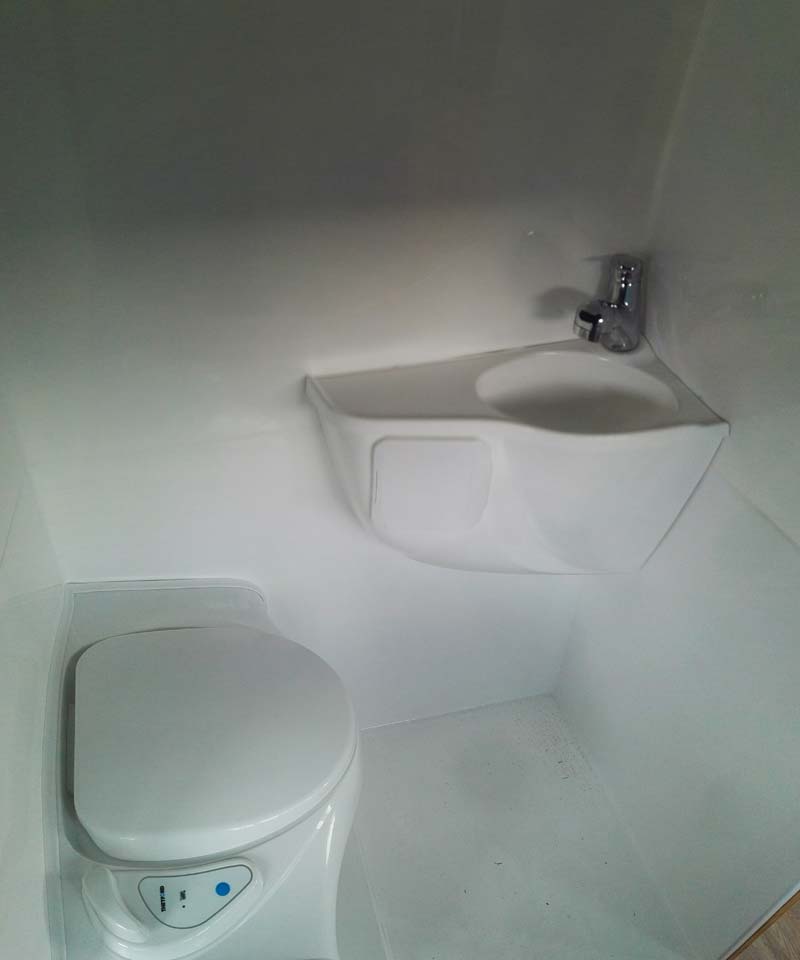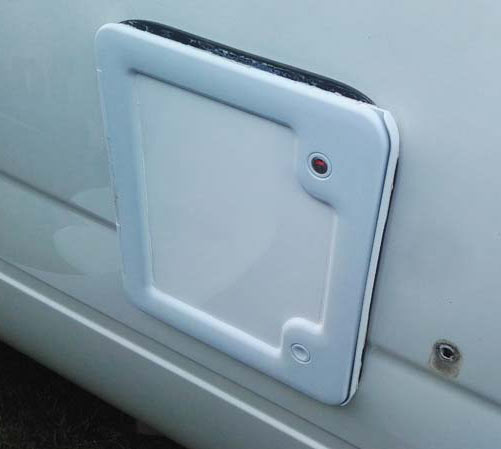 3D Design
I'm using 3ds max for figuring out how to construct some of the parts of the bus interior. Other parts I figure out as I go.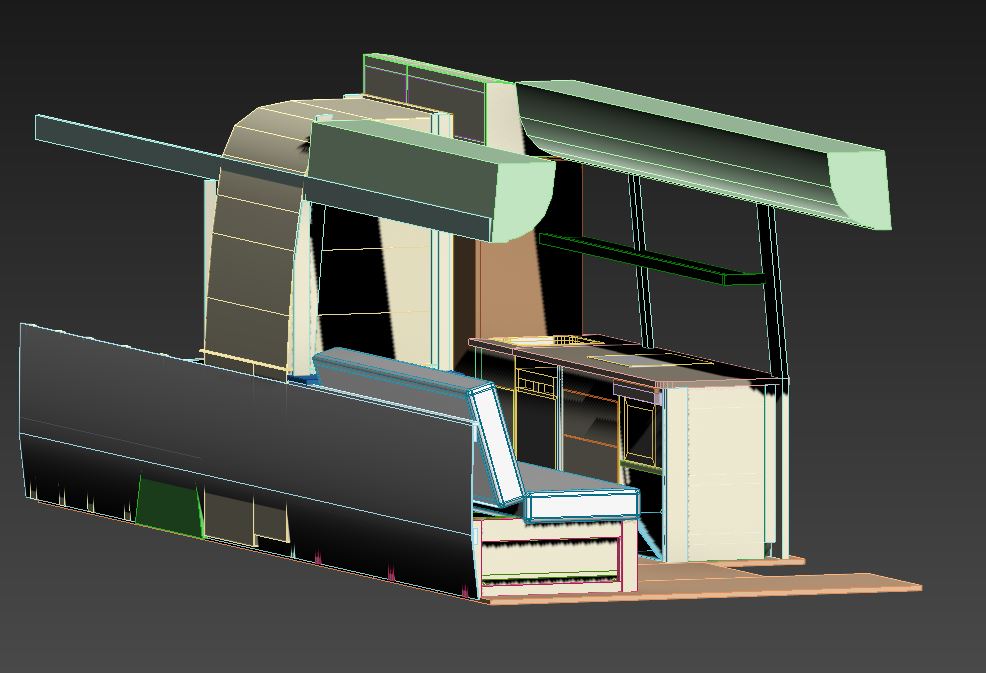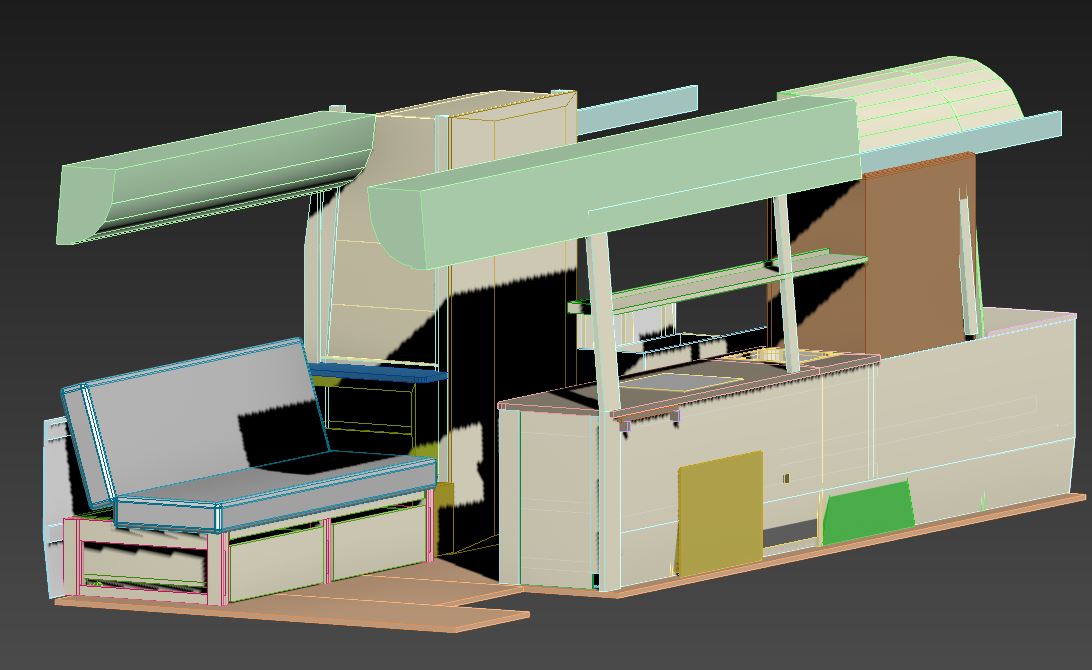 Water, Bed and Storage Area
Now with the shower module in I can finally start working on all remaining parts.
The fridge seen on the right side has been working on solar for weeks now. So did the ceiling fan which is a live saver when the sun comes out.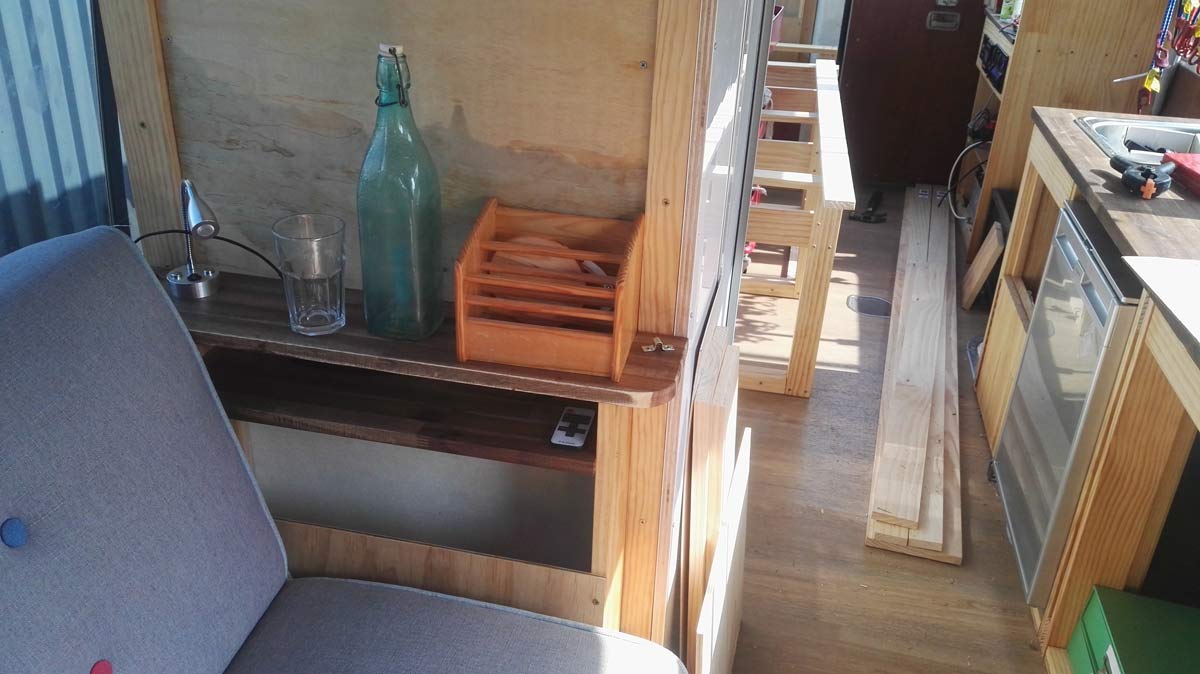 I am placing the hot water unit next to the shower under the bed, seen on the right side.
I had to replace some of the original ceiling after cutting a hole on the wrong side. It is quite confusing when you have to mirror the cut-outs. It does look good though and breaks the monotony of the long ceiling panels. I used 3 or 4 mm plywood from Bunnings.
This is a hot water unit that runs on 12 V or 220 V. I won't connect the 220 V for now. I am trying to run as much as possible on solar power. The unit is meant to use 25 Amp on 12V for about 30 min to heat up 10 l of water to 75 degrees.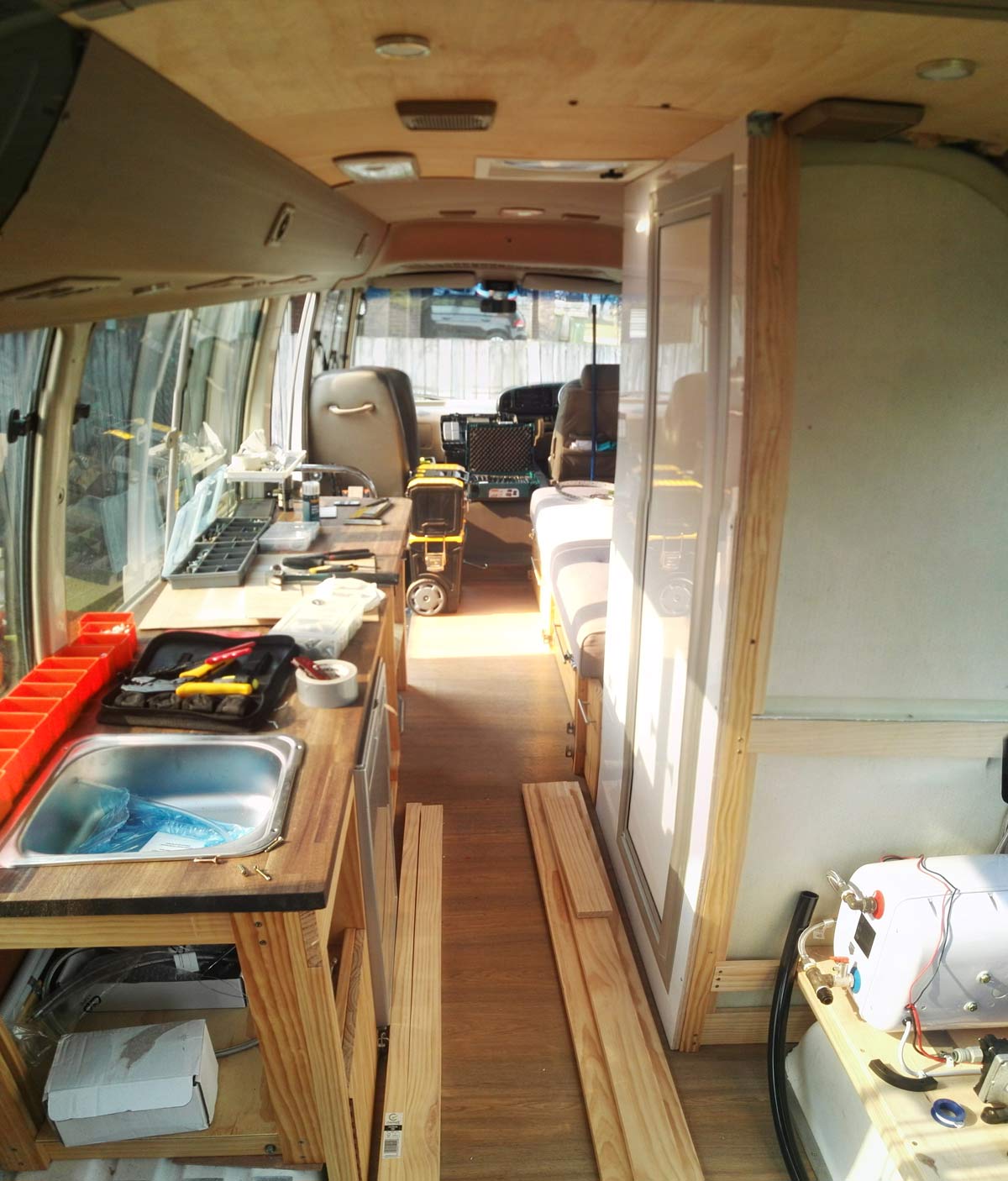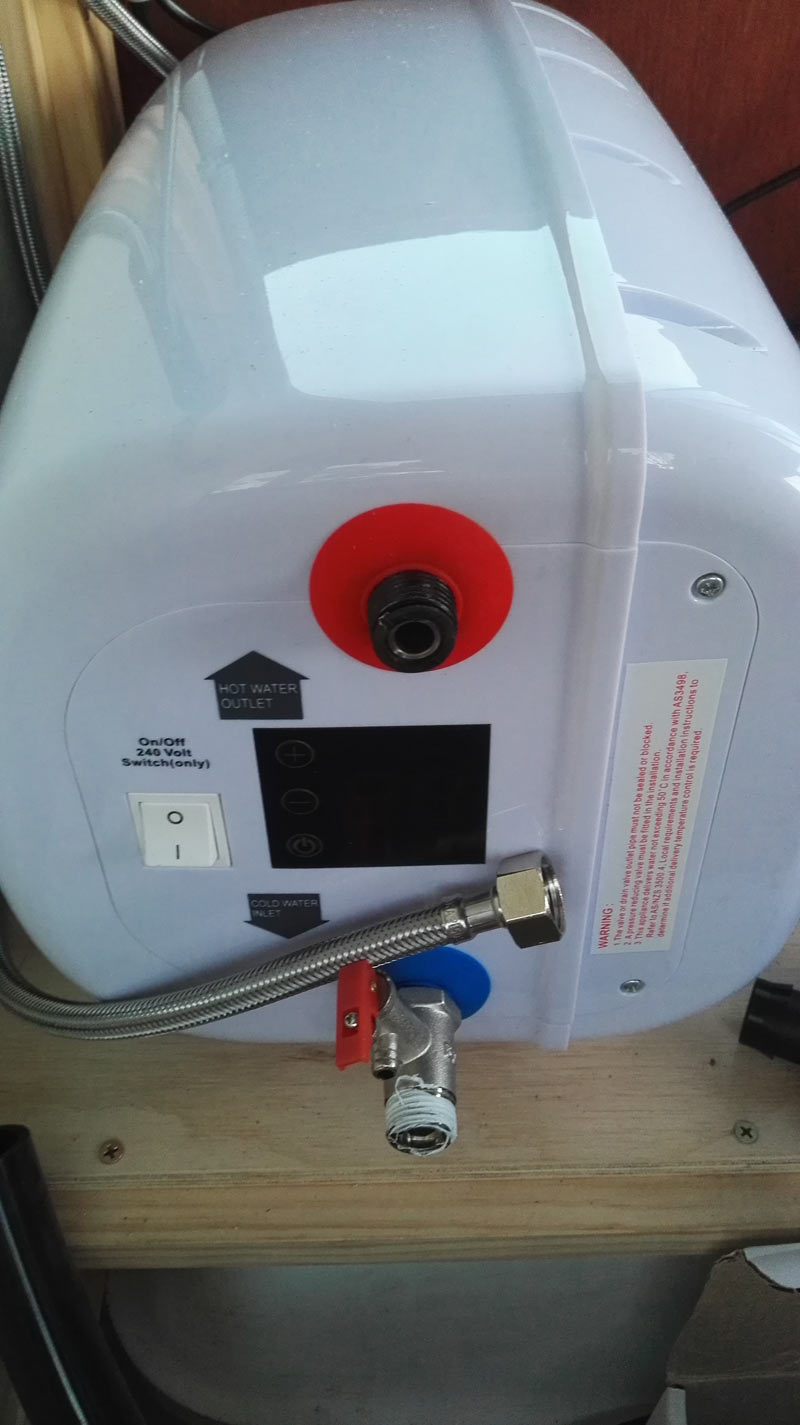 The full extending drawer sliders. They are about AU$ 12-15 a pair.
Storage will never be enough so I try to use every little nook or corner available.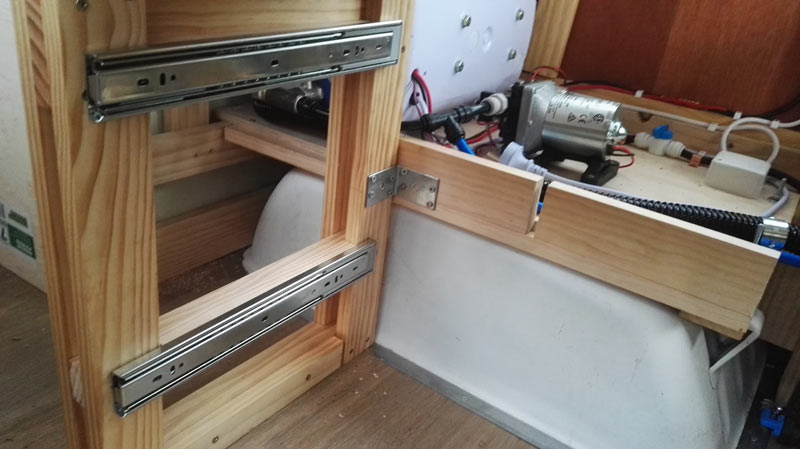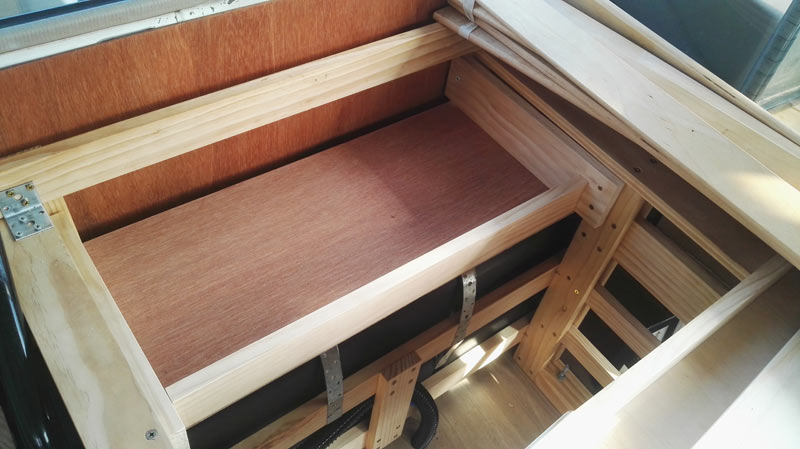 I made (another) mistake putting the fresh water hose in a bit too high. So I had to adjust the bed design and make it a little bit higher than I would have wanted it. So I got some storage for long pieces now under the bed accessible through a little trap door.
I will use a single mattress for now. I haven't quite figured out how to pull out the bed so it becomes about 40 cm wider. But I prepared it so I can make the extension as soon as I have the right idea.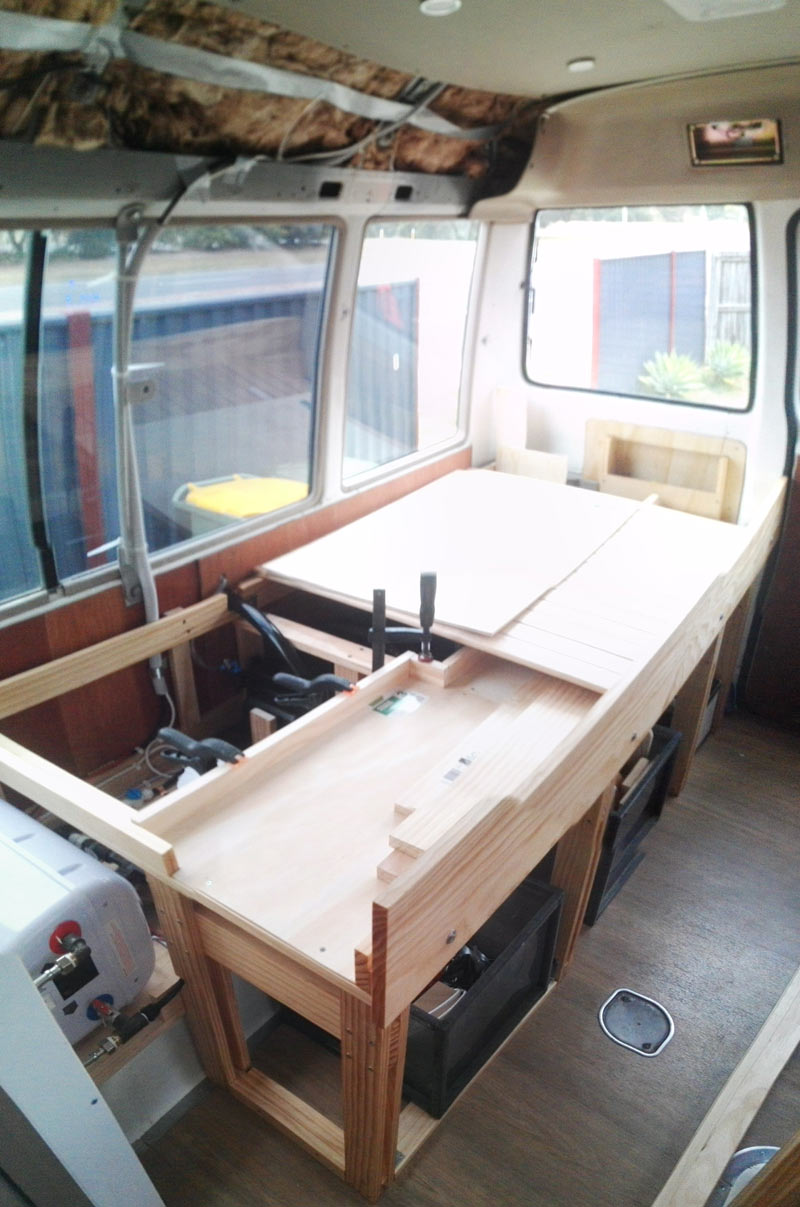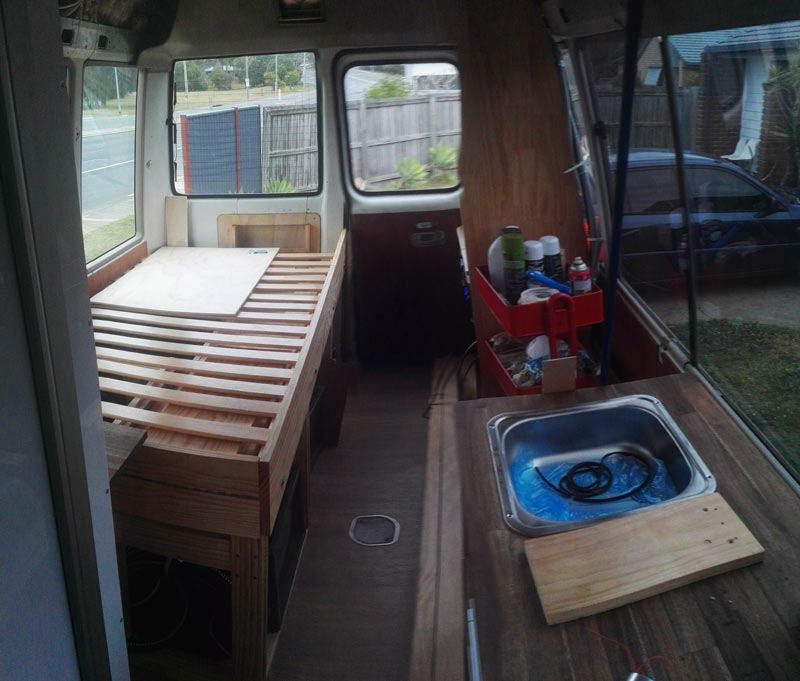 Storage
Under the bed will be the main storage area.
The gap on the right side of it will be filled with a small cupboard I have. I left the gap for it but it is very tight and I may have to cut some parts off the top of the cupboard.
It would be good to use this cupboard. It has 2 drawers and some space to hang clothes. And it is very light weight.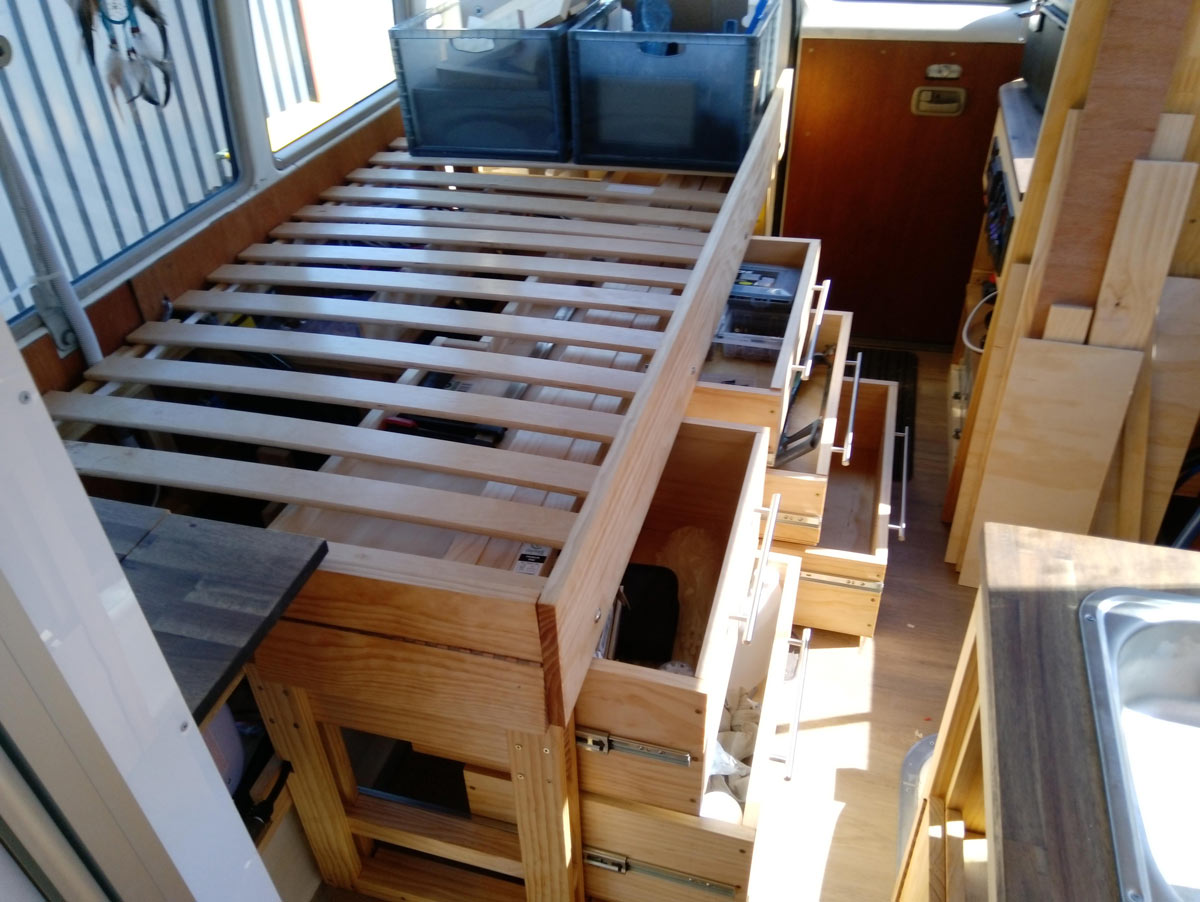 Above image:
Something I wanted to have is space around the kitchen bench for food containers, cups or anything else. The board is fixed to the old seat-belt screws. Super stable.
---
Right image:
The brand new mattress and some overhead cupboards. I first wanted the cupboards all the way to the back but it turned out it makes the sleeping booth a little bit claustrophobic. I wanted at least be able to sit there. This is a good compromise I think.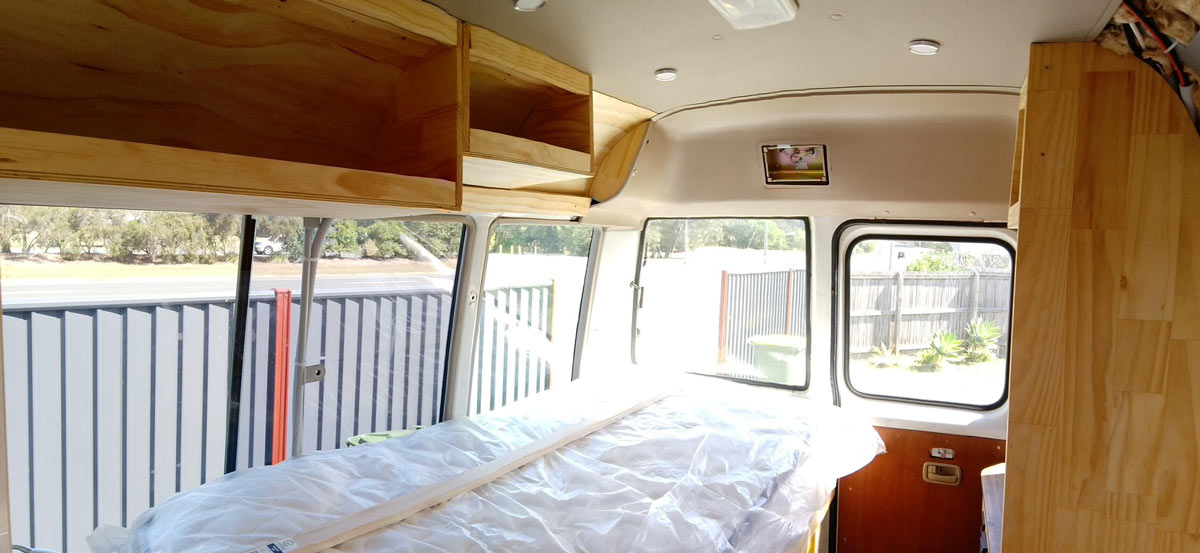 The power nook was getting a bit cramped inside. I needed to move the fuse box to the side to get a bit more space for the inverter. The inverter doesn't output any power at the moment. It might just be a blown fuse. So I temporary removed it. I decided to add a breaker to the inverter over 150 Amp and 2 2-pole 240 Volt breakers for the 2 power plugs I have put into the bus. I didn't want the inverter be connected directly to the battery. And the 220 Volt breakers are an extra level of safety for just a few bucks. It's good to be able to turn everything off with a switch or breaker.
I bought another battery. You can really only use half of the capacity of AGM batteries. Now I have 420 Amp/hours nominal and I can use 210 of them over night or on grey days. I Hope that will be enough. I finally put the 2 other solar panels on the roof.
The 2 departments are closed off now with fly-screen doors. The upper door needs to be a bit easier to open or close.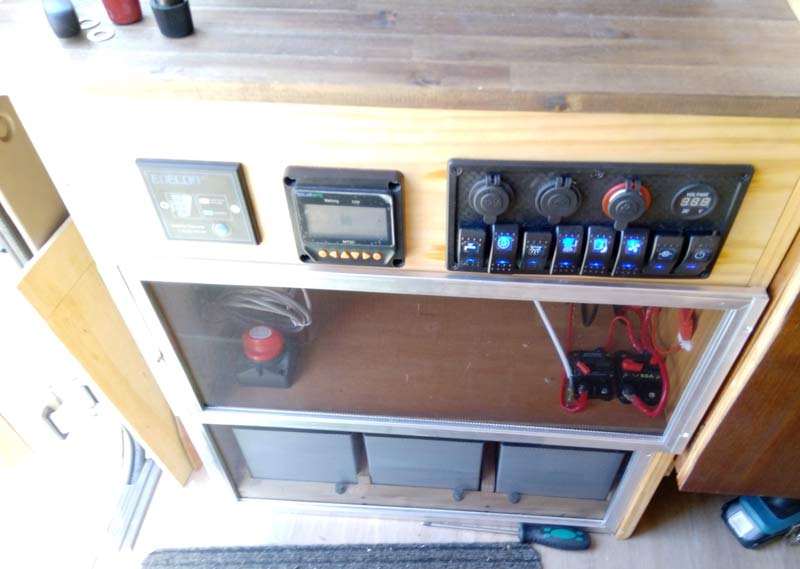 Getting finished
The current view with 90% of work done.
I added a little book shelve and a food cabinet for olive oil, vinegar or cereals to the shower wall. It will get a door.
Two drawers under the stove and another under the microwave compartment.
Curtain rails are in partly and I all parts for them arrived.
Opposite the bed is a little cupboard I got years ago from Vinnies. It has hanging space and 2 drawers plus 2 open shelves. And it is super light. I had to cut the top a bit to make it fit.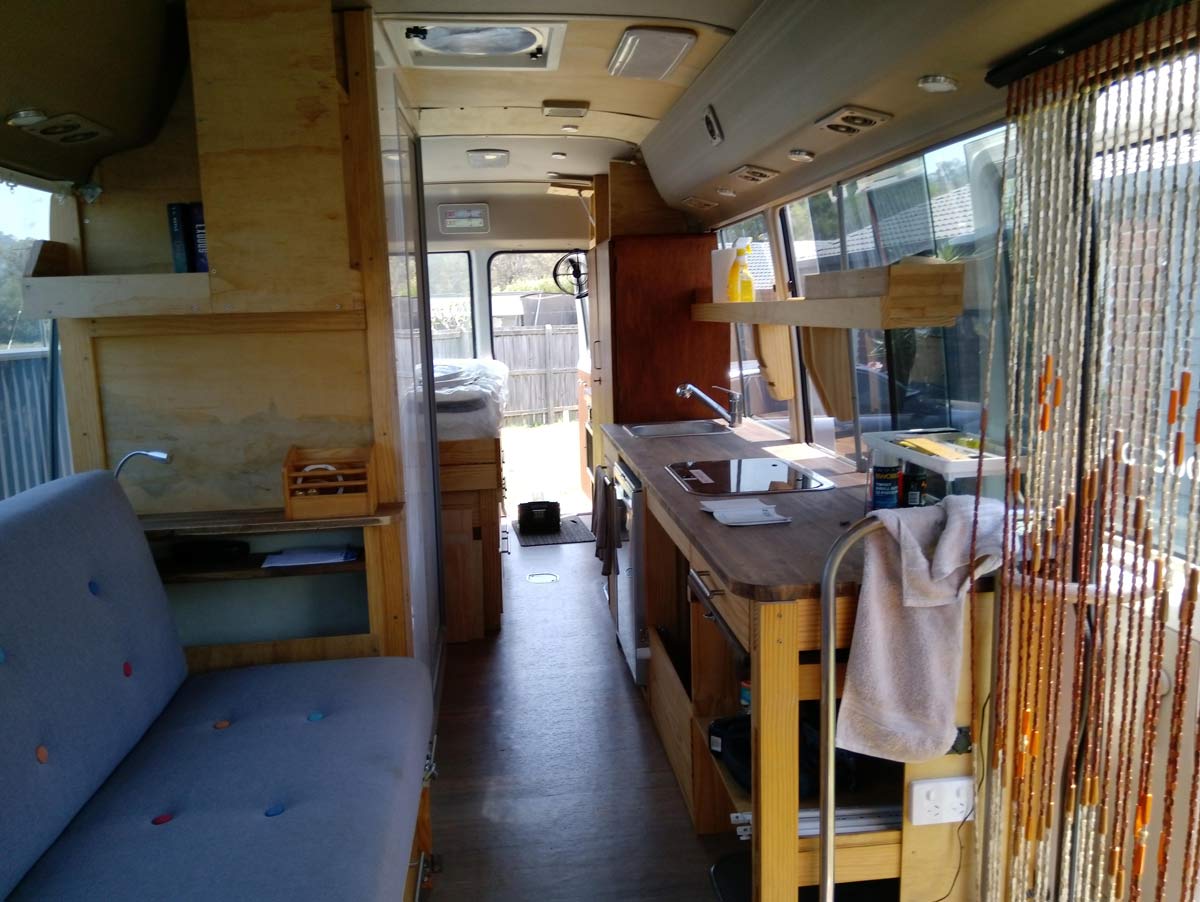 This little fan is great. It has a timer and 3 speeds. It can be turned in any direction.
The other great little helpers are the telescopic hydraulic mounts that keep the overhang cabinets open or closed. Only $ 2-3 per piece from China like most good stuff these days.