January - March

Impressions from Brisbane. Some music concerts I attended. Also a day out at Hamilton Racecourse and finally pictures from Russ and Kylie's wedding in Sydney.

Bilder und Eindruecke aus Brisbane. Eingige Konzerte auf denen ich war. Ein Tag beim Pferderennen in Hamilton und schliesslich Russ und Kylies Hochzeit in Sydney
Australia Day

Sara and Malte during the Australia Day celebrations at Southbank.

Sara and Malte während des Australia Days. Wir haben das Feuerwerk von der Southbank angeschaut und sind dann noch auf ein paar Bier da geblieben.
Brisbane Impressions

The CBD Skyline seen from Westend's side. Not the side I live. A new skyscraper in the middle. It may be simple, strong in style but I am not really sure if it looks good. And at the end looking 'good' is what counts on the long run. Other architects may not agree.

Die Skyline diesmal von der anderen Seite aus betrachtet. Davor ist der River Highway. Er war eine zeitlang gesperrt weil er angeblich nicht mehr sicher war. Es gab Risse im Beton. Ich bin aber irgendwie sicher dass einige Leute hier froh wären wenn er abgerissen würde. Für den Verkehr ist er aber sicher ne gute Sache.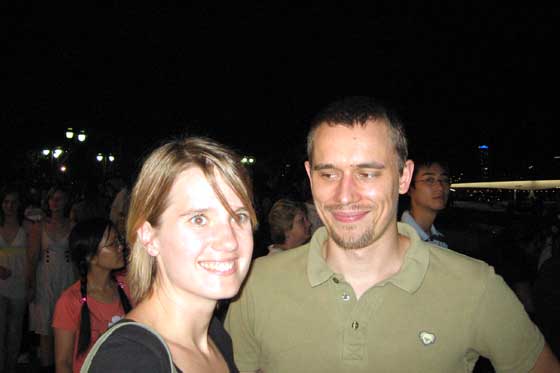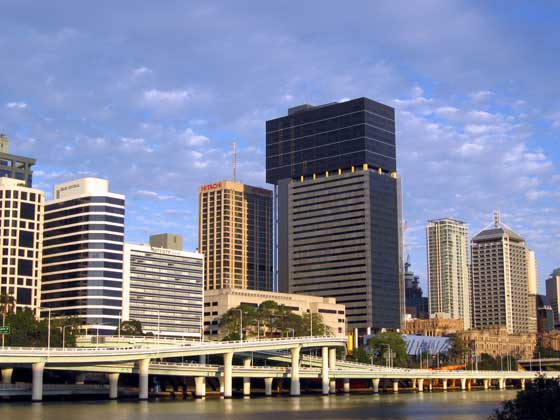 The Art Gallery. Another one of the many good new buildings.

Die Art Gallery. Eines der vielen guten neuen Gebäude.

A stroll along the river leads me under the William Jolly Bridge.

Westend Die William Jolly Bridge ist nicht so alt wie sie aussieht.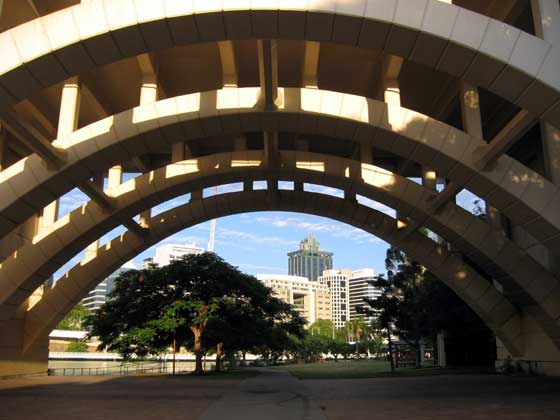 This is a designated area for dogs to get off the leach. Not very popular this one, if you ask me.

Hier kann man seinen Hund von der Leine lassen. Ich glaube aber nicht dass das viel genutzt wird. Wahrscheinlich lassen alle ihren Hund überall von der Leine. Die meisten Hunde hier sind kein bischen aggressiv.

Other than Sydney, Brisbane doesn't have a lot of old streets and buildings. Almost everything was built within the last 50 years. Sometimes I miss a proper street with old buildings along each side. This supposed to be Brisbanes Newtown.

Eine Alternative für ne neue Wohnung wäre Westend. Relativ günstig, einige Cafés und Restaurants und nicht zu weit weg von meinem Büro. Aber ich lass mir Zeit. Ich werde wohl meinen Mietvertrag um 6 Monate verlängern. Erstmal brauch ich ein Auto.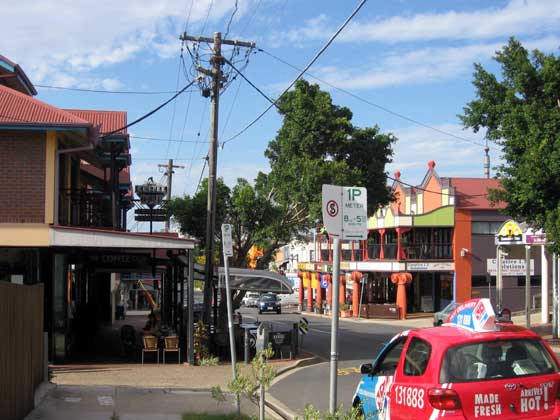 The Brisbane River with the CBD and the Riverside Ex. I bet they are not as proud about this highway as they were during the 80's.

Panorama Bild der City von Westend gesehen mit dem Riverside Expressway der zur Weltausstellung 1982 gebaut wurde.

Joanna Newsom (Tivoli)

I went to watch the American harpist and singer Joanna Newsom playing the Tivoli around the corner. It was a great concert. Her performance is even better live than on record. I didn't make the picture but it was how it looked like.

Ich hab mir vorgenommen etwas öfter auf Konzerte zu gehen. Im Januar war ich bei Joanna Newsom (Bild) und Khaki King. Im März bei den Dears und New Buffulo und im April bei den Lemonheads. Joanna Newsom spielte im Tivoli gleich um die Ecke. Ich fand das Konzert noch besser als die CD Aufnahmen. Ich hab ein kleines Video aufgenommen:

Joanna Newsom at the Tivoli (8MB)
The Dears (Columbian)

Like a other bands from Canada they make interesting and unusual but still catching rock music. Some predict them a big future. I hope they get it because they deserve it.

Die Dears aus Canada, wie einige andere Canadische Bands spielen erfrischend interessante Rockmusik. NME nannte sie die 'vielleicht beste neue Band' aber auf den großen Durchbruch warten sie noch immer. Dazu ist ihre Musik vielleicht zu gut. Und es ist eine richtige Band wo auch die beiden Frauen nicht nur der Quote und des Aussehens wegen mitspielen.

The Dears on the web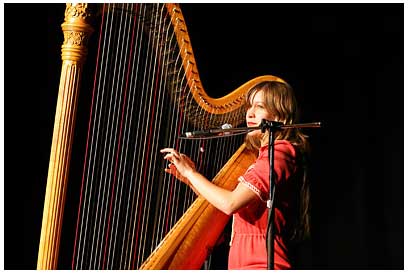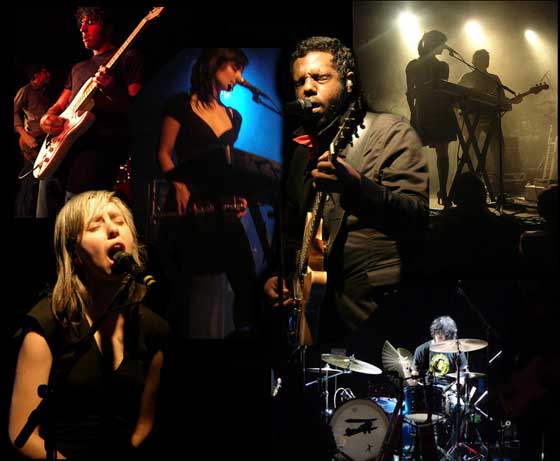 New Buffulo (Troubadour)

New Buffulo in a tiny club. Another very good concert. Sally Saltmann does beautiful, touching and well arranged songs. She produced her last album together with her Husband Darren (from the Avalanches) in their own studio. It's very refreshing to hear an album so far away from MTV and Australian Idol.

New Buffulo ist das Projekt von Sally Seltmann. Sie macht einfache aber wunderschöne Pop Songs. Es ist schwer was über ihre Musik zu sagen. Am besten einfach mal anhören. Es lohnt sich.

Tear me up, thank you - on YouTube
The Lemonheads (The Zoo)

The packed Zoo saw an Evan Dando at his best. I remembered how much I like the melodies of the Lemonhead songs. They are just timeless. They put up the volume quite a bit and he rocked hard on his guitar. Which looked a bit like a school bands players first instrument but had a great warm sound. I am glad I didn't miss this concert.

Die Lemonheads sind in Deutschland nie so richtig rausgekommen. In Amerika und anderen Ländern haben sie aber eine Art Kultstatus. Die Lemonheads sind Evan Dendo der zeitweise mit Curt Cobain verglichen wurde. Die beiden Alben 'Its a shame about Ray' und 'Car Button Cloth' sind einige der Alben die ich immer mal wieder auflegen kann. The Zoo war ausverkauft und Dendo hat ziemlich einen abgerockt. Ich war überrascht was für ein perfekter Musiker er ist.

Lemonheads on the web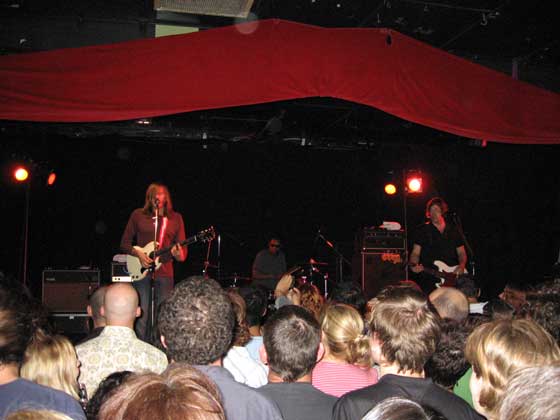 At the Races

Russ last big day out before the wedding. We went if a few Krome and ex Perception guys to a horse race. Tom, Alise, Tash and Jeremy. In the background Mithra and Corey

Nach alter Tradition hat Russ ein paar Leute eingeladen um zum letzten mal vor seiner Hochzeit nochmal richtig einen drauf zu machen. Im Vordergrund Tom, Alise, Tash und Jeremy - alles Krome Kollegen Im Hintergrune Mithra und Corey - ex Perception Crew.

I did quite well with my betting. The first race I picked the winner but unfortunatly I didn't put enough money on 'win'. The second race I picked the second but this time I put all on 'win'. The 4th race I picked the second as well. So after all I spend maybe $20 on horses.

Eigentlich hab ich ganz gute Pferde ausgewählt. Das erste Rennen hab ich gleich auf den Sieger gewettet, aber leider nicht genug auf Sieg. Beim zweiten Rennen hab ich dann auf den zweiten gesetzt, aber diesmal alles auf Sieg. Beim 4. Rennen kaum mein Pferd als zweiter rein. Insgesamt hab ich ungefähr $20 verloren, aber das ist ein guter Schnitt für den halben Samstag beim Pferderennen.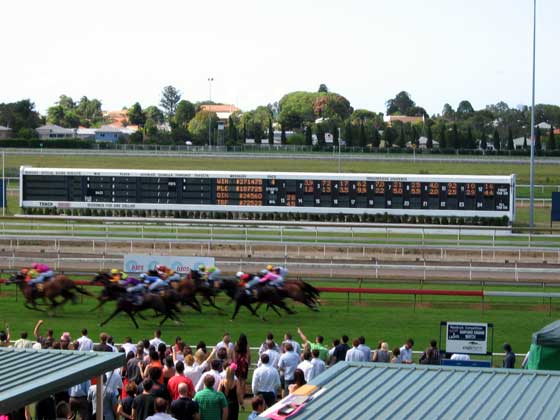 There is free live music everywhere. And most of the time it is quite good like this girl band named Krill.

Brisbane die Musik Hauptstadt Australiens. Überall Live Musik. Auch diese Girl Band genannt Krill war gar nicht so schlecht.

Schön wars dort. Klassisch Australische Tribüne und heiß wars auch.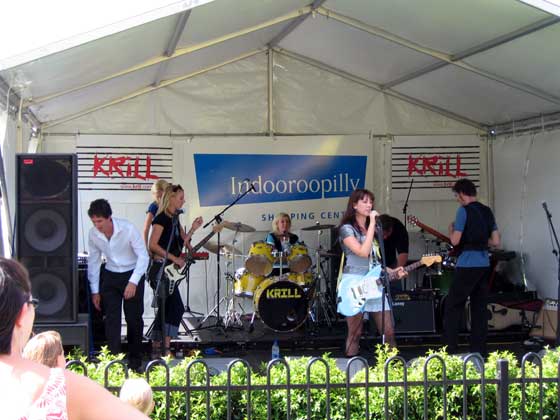 Dooleys

One of the two Irish Pubs in the Valley. A place everyone can get in at any time. So with many people we end up there many times.

Hier in Brisbane sind die Regeln um in eine Bar zu kommen noch etwas altmodisch. Also es wird viel auf Schuhe und Kleidung gekuckt und wenn man Shorts oder Turnschuhe anhat dann muss man halt ins Dooleys gehen. Dort kommt jeder zu jeder Zeit rein.
Russ' and Kylie's Wedding

This could have been the moment. The wedding was at Ravesis in Bondi Beach.

Kylie's and Russ's Hochzeit. Der große Moment? Ich war zu weit weg um alles zu verstehen. Die Feier war im Ravesis direkt am Strand von Bondi.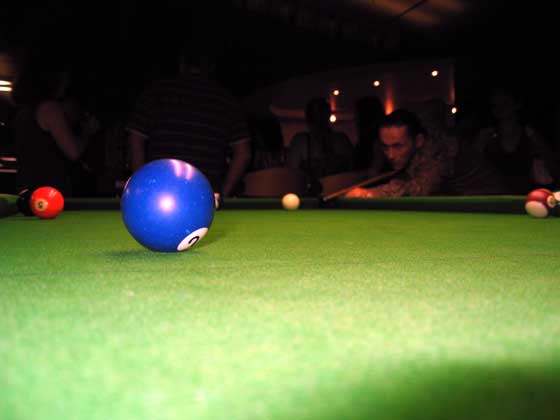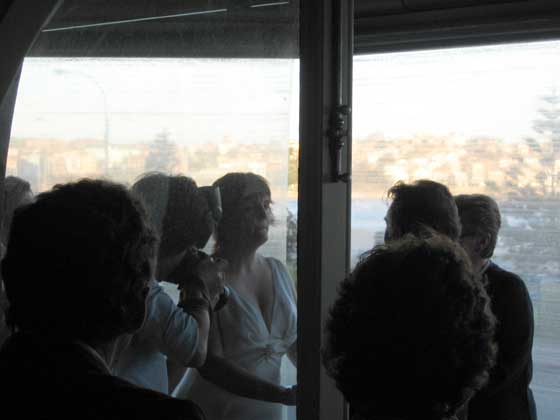 Corey, Kylie, Russ und Lucie.

Corey, Kylie, Russ und Lucie. Corey und Russ sind ehemalige Perception Kollegen.
Kylie, me and Russ.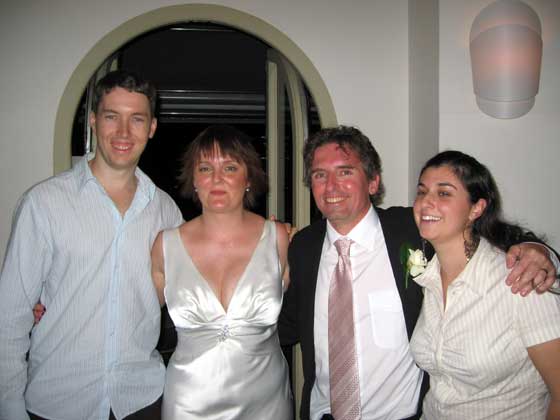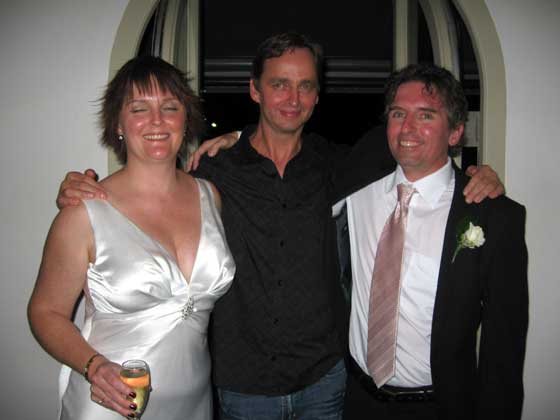 Julian, Beck (left) on the balcony. In the background the beach. It was relatively quiet in Bondi. - Already off season.

Julian, Beck und (?) auf dem Balkon, Arbeitskollegen von Kylie aus Brisbane. Im Hintergrund der Strand von Bondi. Es war schon relativ ruhig in Bondi. Die Hauptsaison ist schon zu Ende.
Kings Cross (Sydney)

I stayed for another 2 days in Kings Cross. The area where everthing started. It was really good being a tourist again. I went for a breakfast at Roy's Famous and watched the other tourists passing by - but I didn't feel like beeing one of them.

Ich war noch 2 Tage als Tourist in der Challice Lodge in den Rocks. Es war gut mal wieder ein Tourist in Sydney zu sein. Ich hab absichtlich keinem gesagt dass ich in Sydney bin. Zum Frühstück bin ich ins Roy's Famous gegangen. All die anderen Touristen sind vorbeispaziert und ich hab mich nicht gerade wie einer von ihnen gefühlt.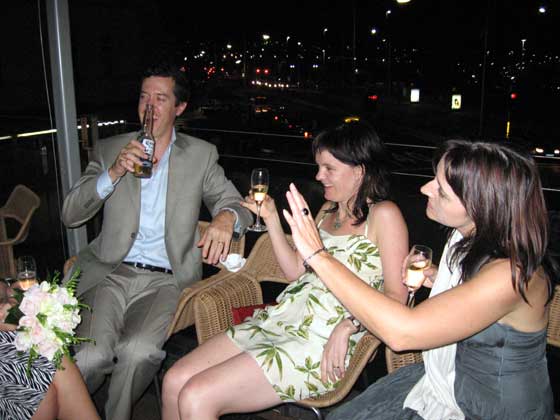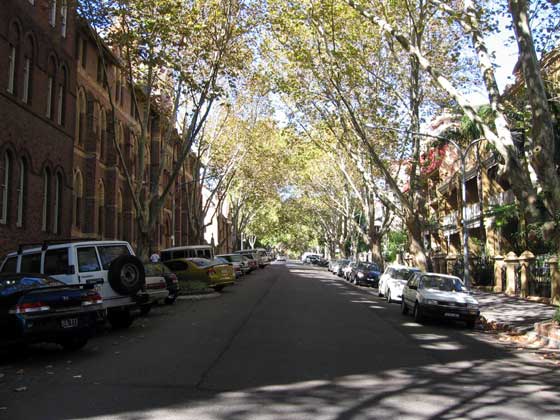 Bronte Beach

Good old Bronte Beach. I went for a swim in the rock pool like I did many times before. The water was quite cold compared to the Brisbane beaches. After the swim I went to Cafe Q, the best cafe in Bronte. Marcel, the owner, was the only familiar face. I just missed Anouk. She and James, the chef, are the only familiar staff left

Am Sonntag war ich am Tamarama Beach und am Montag in Bronte. Ich hab ein paar Bahnen im Rockpool geschwommen und bin dann ins Cafe Q. Marcel, der Besitzer, war das einzige bekannte Gesicht. Priya (Brea?), und Caroline arbeiten nicht mehr da und Anouk hab ich leider verpasst.