Sunshine Coast, Hanne's Birthday (Oct-Nov)
The first Krome Surftrip happened in Maroochydore (I know everyone always wanted to go there just for the name it has).
Another day on the beach in Caloundra.
I meet Olaf, Hanne, Jacqui and Paul at Hanne's Party she held for her visiting sister in Paddington, Sydney. Finally we stroll around Ultimo with Kev and Liz.
House Warming Party at Russ and Kylie's
All people here in this picture are working at Krome: from the left only the visible ones are Jeremy, Luke, Ben, ?, Tina, Liz Loading the small Bus on Friday after Beer o'clock. In the last hour every friday is usually time to drink a free beer provided by krome and play games, talk or work if necessary.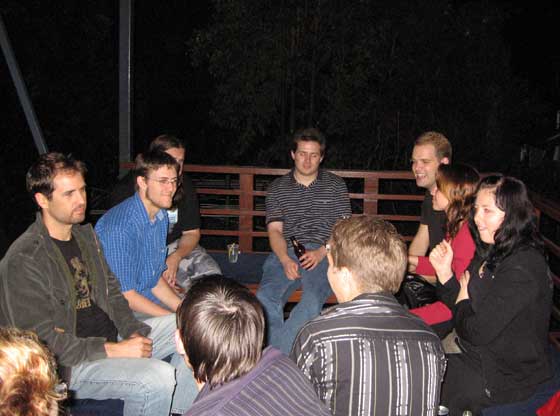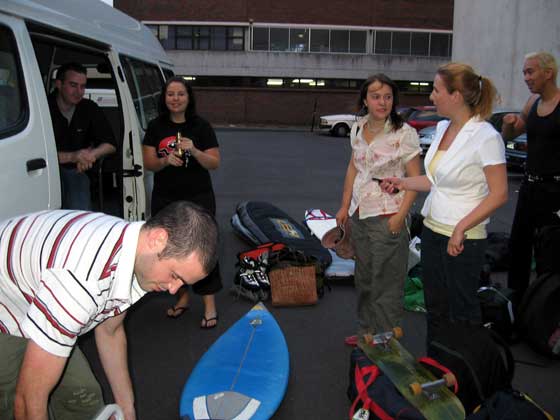 One of our three cabins. Well equipped and not far from the beach in Maroochydore Jeremy is watched by a dog on dog poo beach. Well - I haven't seen dog poo but that is what the locals call it.
The town on the Sunshine Coast was one of those unspellable aboriginal names. You can tell me how it is called but I will forget it 10 minutes later. Too difficult to remember.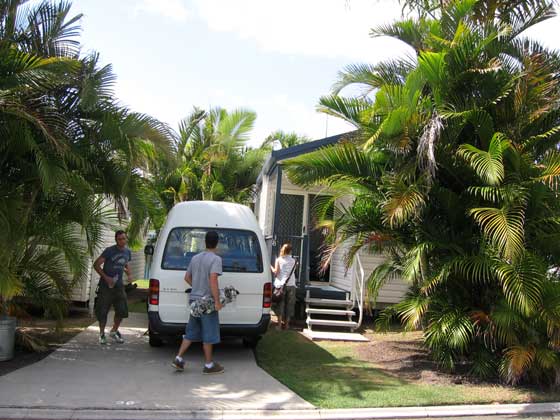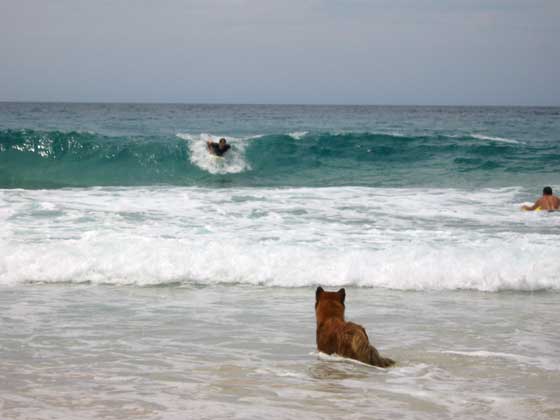 Maroochydore Beach

Traditional Australian BBQ: Sausage, Beer and Meet. Bread Rolls and - ah yeah a few tomatoes maybe and BBQ sauce.
Sarah from Wales, Al from Canada and Natasha from Australia. The possum from hell got a sausage or five. Ok maybe six. It had a little baby possum from hell in its pouch.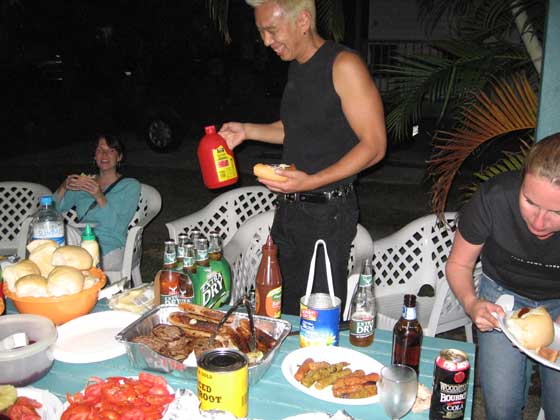 Kondilla Falls
On the path to Kondilla Falls. Actually this part of Australia is quite close to Paradise. If it is really hot it must be really nice to go for a swim.

Two Guanas kept me from moving along the path a bit away from the Falls. I just stood still and they went by after a while. I thought if I leave them alone they leave me alone as well. Very green country near the coast. But in the West it is very dry. There was no proper rainfall for about 6 years.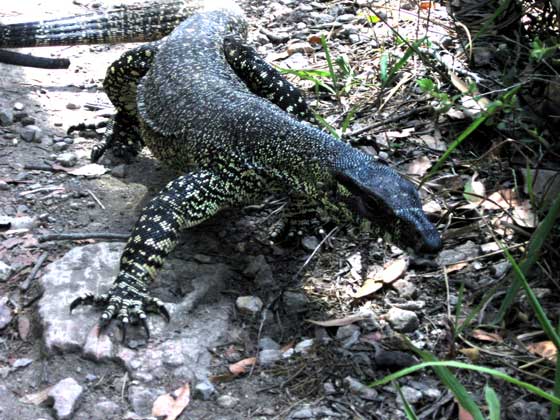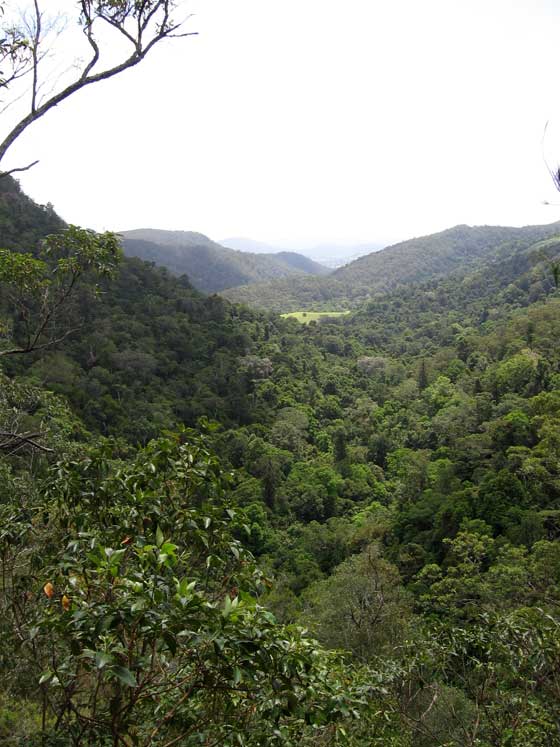 Barefood Bowling
Pete shows how a real Australian bowls.
Unfortunatly the place was really run down so it was more or less random where the balls went to. Anyway - The BBQ was alright and the beer was cold.
There was a german girl working as a waitress. I always meet Germans when I expect it the least. Dickie's Beach in Coloundra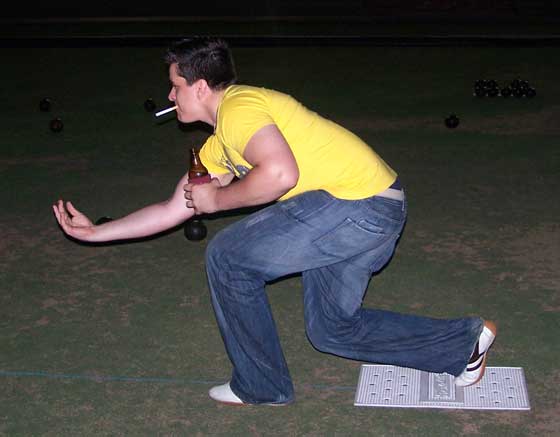 A lazy day on the beach in Coloundra about an hour drive up the Sunshine Coast.
I was 3 or 4 weekends in a row at least one day on the beach. The water is beautiful. The waves are really gentle but not as high as in Bronte. I know all the guys in this picture from Sydney. An old shipwreck with a story but I forgot about the story. In the background a surf Life Savers training or maybe they just have a bit of fun.
Everyone dressed in yellow and red are volunteers and don't get paid proper for their job. Only the guys in Blue are professionals and have a full time job.
The Life Savers are really looked at as the good guys saving drunken Irish backpackers and keeping the holiday industry alive. That's the reason while so many people went on a riot after a group of lebanese guys attacked some of them last year in Cronulla.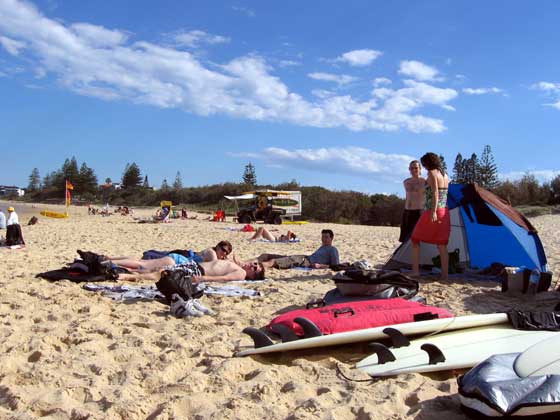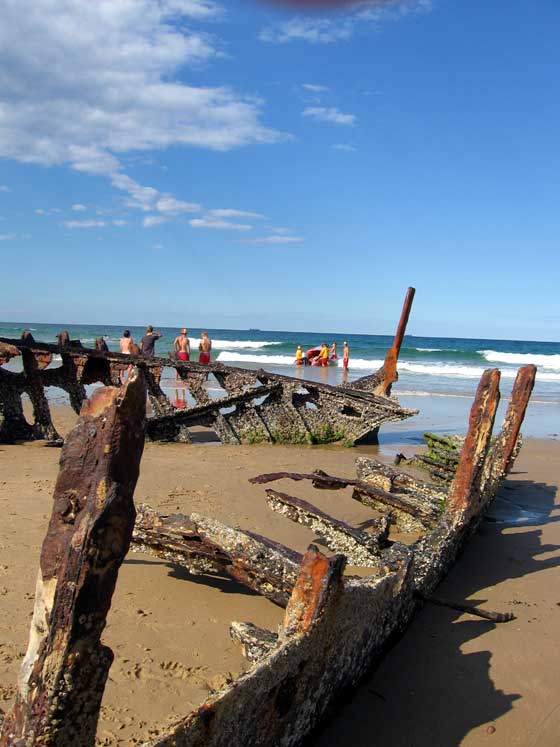 Australia vs England
Rugby League. Which is a bit different to Ragby Union and a lot different to Aussie Rules. Anyway. Noone knows or cares about these sports in Germany Westfield Shopping Center in Bondi Junction prepares itself for celebrating Christmas.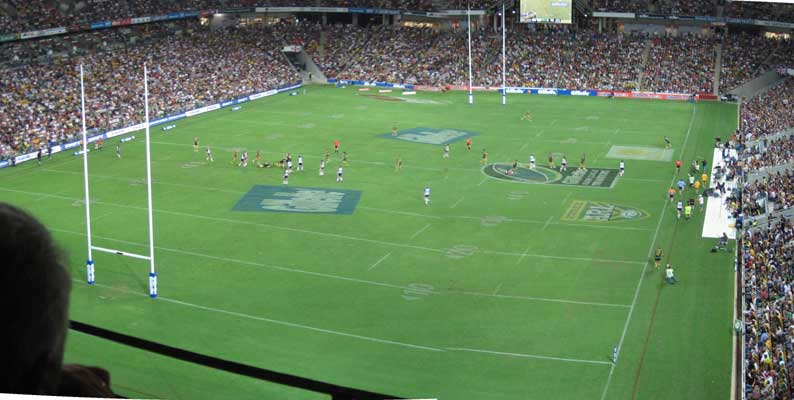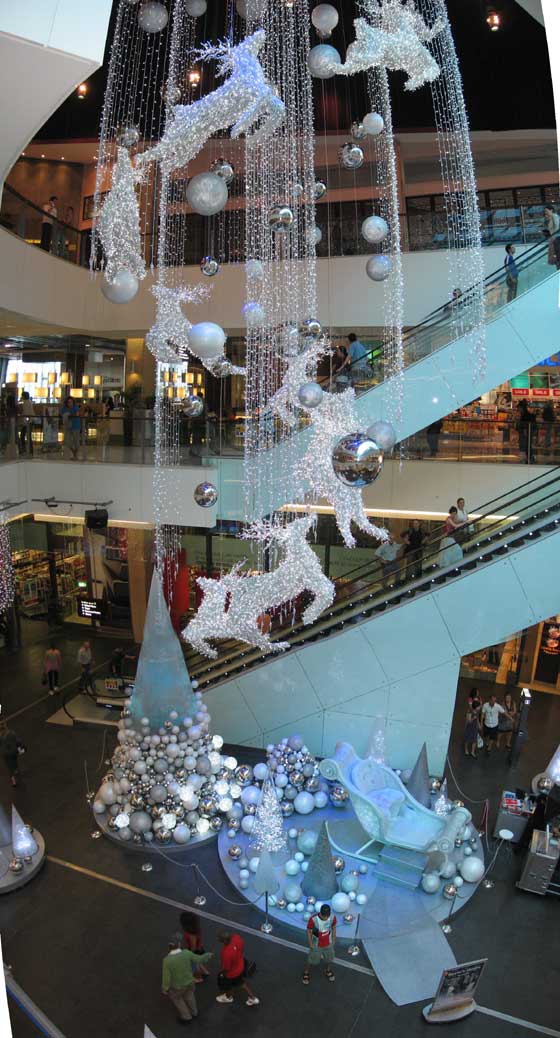 Hanne's Party
Hannes party for her danish sister in the global gallery in Paddington. Everyone was supposed to be dressed as an artist. Well - I am an artist sort of so I didn't dress up. We practiced in some painting with more or less success.
Jacqui and Hanne doing the jury giving prices away for the best paintings.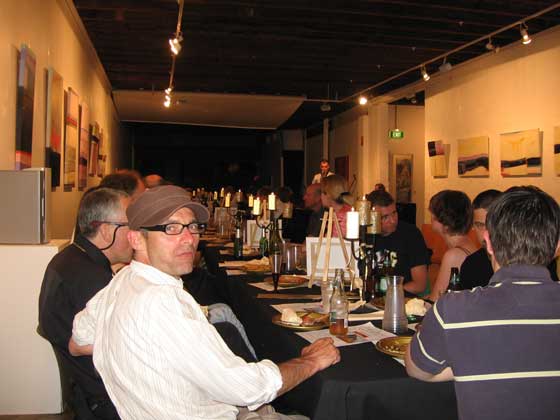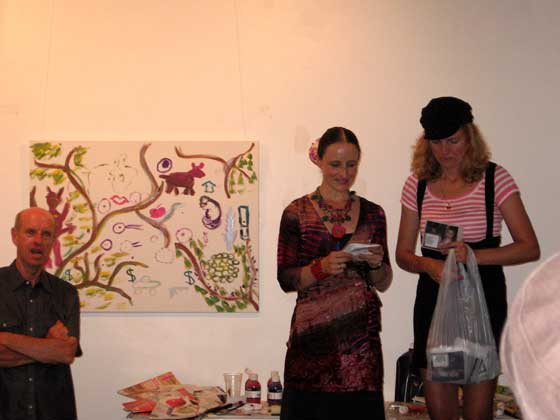 Jacquis sisters have fun too.
In the background is Jacquis stepfather who was dressed as Rembrandt and won the prize for the best costume with quite a distance. Some examples of the painting competition. (picture will change after 5 seconds)
Everyone got a theme. We got 'wombat' so I tried my best because noone else wanted to paint it. It was fun but I don't consider a career change.
Note: the image is changing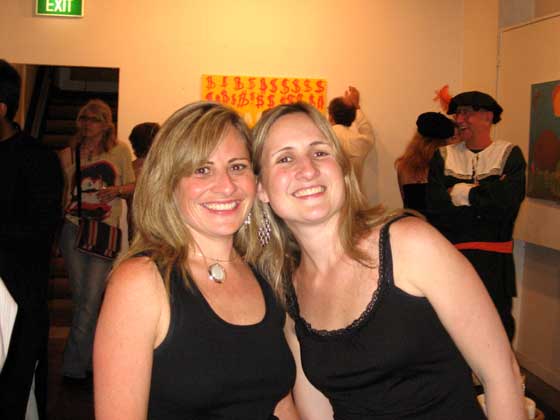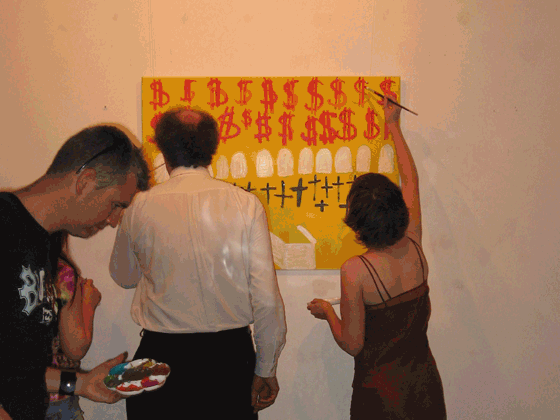 Ultimo
Kevin and Liz moved to Ultimo. Olaf tries to hide behind this post but it didn't really work that well. Is this the reason why this suburb is called Ultimo? - funny name for a suburb. (I don't even know what Ultimo means)