I Moved To Brisbane (August)
Brisbane. That's where I live now. First impressions from this city, the Valley, my new flat and a few more.
At Ray and Ketrina's House
Kethrina concentrates to get the right stone out of the pile.
I stayed the first 2 1/2 weeks at Kethrinas and Rays house in a suburb about 20 minutes away from work. I worked with Ray at Perception. Russ and Kylie came over for a BBQ. The house is directly on a small river. The large decks has a nice view and is a good place to have a BBQ.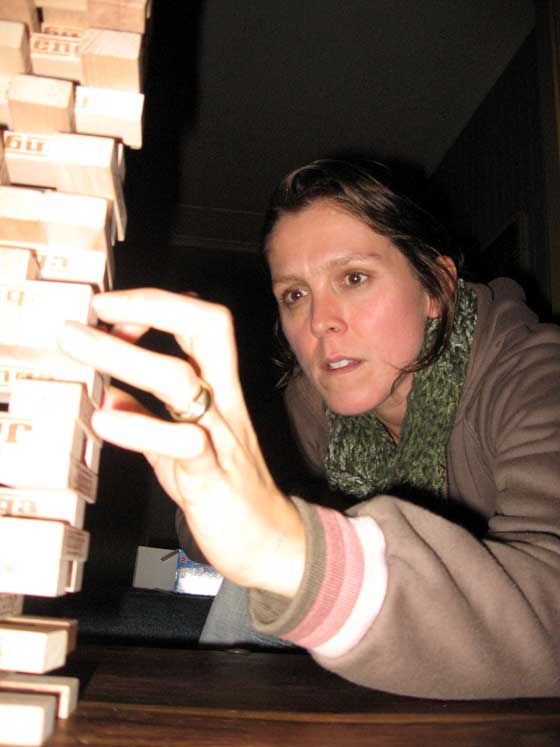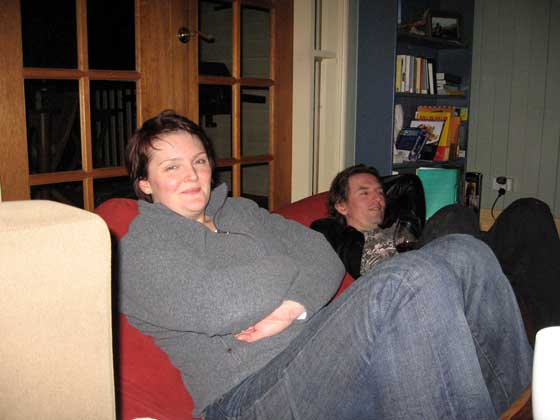 Noosa
Russ and Ray went for a surf.
We did a little weekend trip to Noosa Heads. I remember being in Noosa Heads years ago. It was weird to have a day trip to a place that seemed to be far up north. It is the middle of winter and the weather during the day can be 25°C.
At night it is a bit chilly though. I look forward to the summer but I think I will miss the moderate temperatures from november on.
I tried the waves without a board and it was much easier than in Bronte. Bronte is supposed to be the most dangerous beach in New South Wales. A surf school does a practise lesson. The beach is really big. Almost every parking spot was occupied but there was still a lot of space on the beach.
I tried to learn board surfing in Western Australia for 2 days. It is really difficult. I stick with body surfing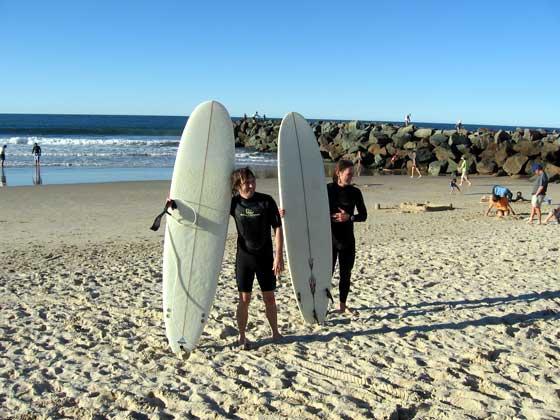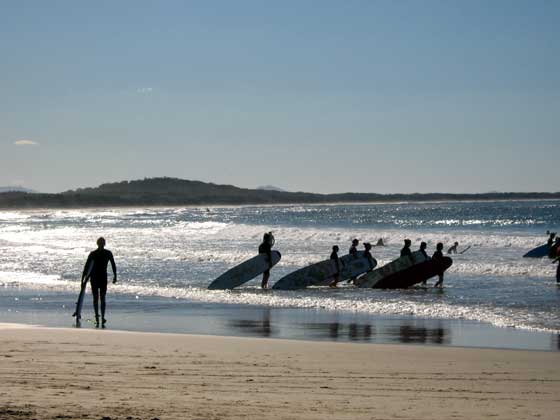 Ballow Street Flat
My new studio flat. It is a bit pricy for brisbane but I can rent the car space out and I don't need to pay for public transport. That's almost 50$ less per week.
All one room. Equiped with dishwasher, dryer and now everything else I need or I don't really need. I'll have internet when I put this online. On the picture the backyard looks much better than it actually is. I wonder if anyone will use the BBQ or the pool in summer.
I may use the BBQ soon for a little house warming.
What you cannot see on the pictures is the noise. There is a air condition next door that goes day and night and next building is a big pub or club which hammers the bass through the surrounding block every thursday till saturday so far. Not really annoying but a big difference to the noise in Bronte.
At least the noise is continous and never stops so I almost don't here it anymore. I am not sure if I prefer the noise of the flying foxes and possums in Bronte. Time will tell. It's a convenient place to live but I doubt I will be here in a year.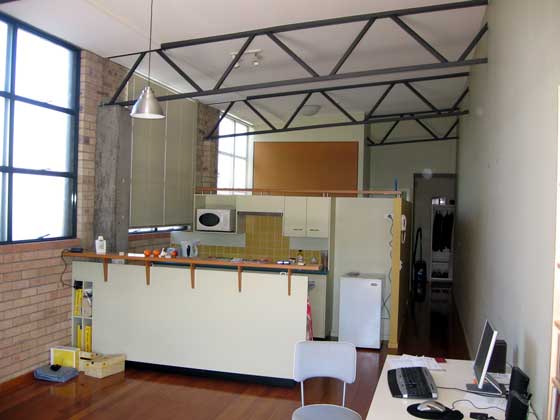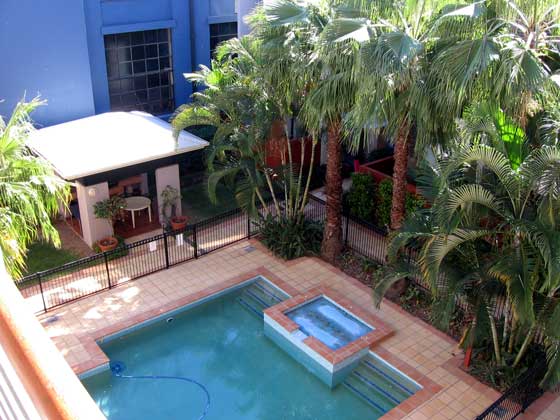 The Valley
Fortitude Valley is a trendy Brisbane Suburb. That's where I live.
Anne Street festival as a part of the Brisbane festival. There are a lot of trendy shops in Anne Street and all of them showed a scetch or something simular in the windows. My camera went out of power so that's the only picture I have got. On the weekends there is a little market in the Brunswick St mall.
On the left you can see my favourite place to go for lunch. This is about 2 minutes away from my flat.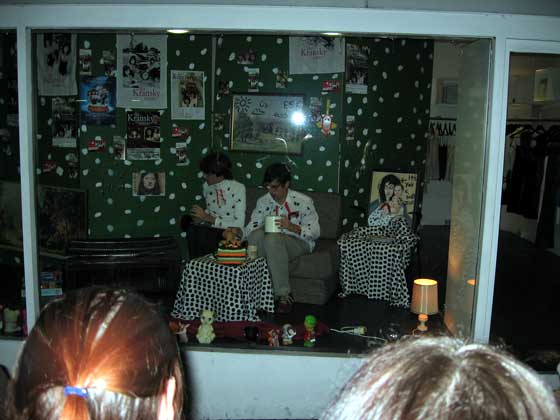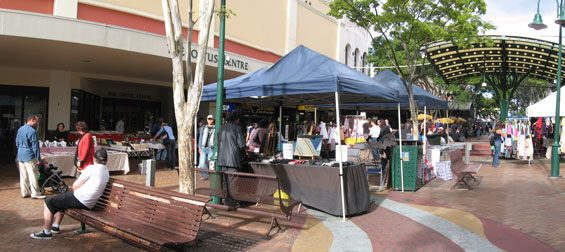 Riverside
Ray and Ketrina in the Java Buddha at Riverside. This is a bit like Cocklebay wharf in Darling Harbour. A stretch of restaurants and bars along the river. About 15 minutes walk from my flat. Russ and I still in the Java Buddha for a few drinks.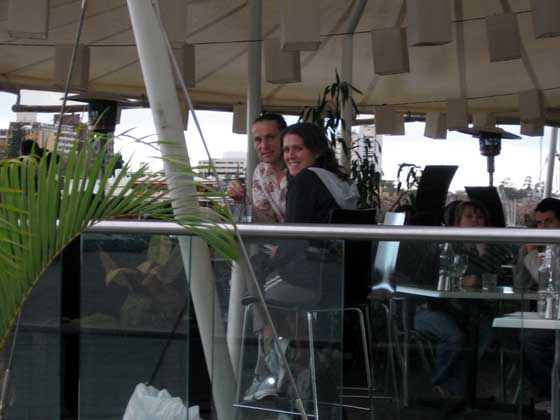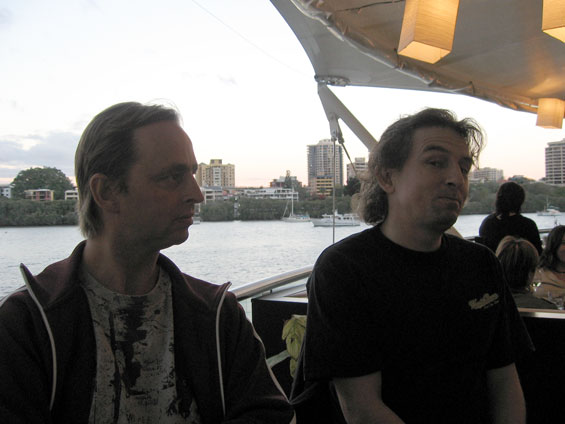 Yes - Brisbane has a skyline too. The CBD at nightThe skyline at daytime. There is a ferry service too which goes a long way on the winding river. Weekend day tickets are only A$ 4 and you can take any bus train or ferry within the large inner Brisbane district.
This is a look at Riverside where a lot of restaurants and cafes are. About 10 minutes walk from my appartments.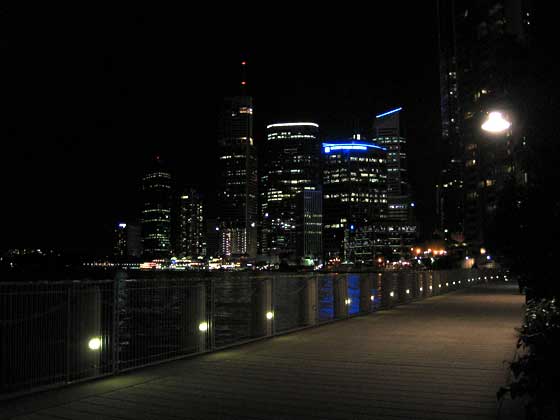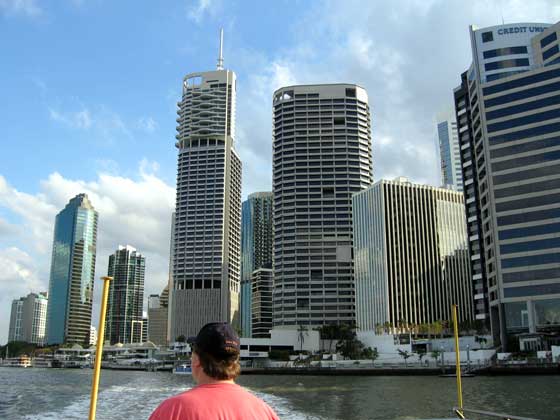 Krome Studios
Here is where I work. Krome Studios located in the heart of the Fortitude Valley, the trendiest suburb in Brisbane. There are 215 people working here. The company does not make a lot of noise like other company but they do quality titles.
I am working on Hellboy for PS3 and XBOX360. It will be released mid 2007 if everything stays on track. Publisher is Konami which is funny because the first game I ever played a lot was a Konami title called Penguin Adventure on MSX.