Living In Brisbane (September)
The Riverfire and more impressions from Brisbane.
Riverfire
We went to a little party in an apartment with a fantastic view on both sides of the river bend. I made 2 amateur videos (1.5MB each) but they give you an impression of this large event.
Triple J radio played music on their station simultaneously.
(photo made by a workmate)

Riverfire video 1 - fireworks

These are 2 jet fighters flying a burnout over the brisbane river for the great final of the river fire. It scared the hell out of us when they flew over the apartment to start the fireworks. Everyone automatically crouched down.
The second time we could see them coming on the TV. One of the pilots held a sign into the camera saying: look up Brisbane
(photo made by a workmate)

Riverfire video 1 - jet burnout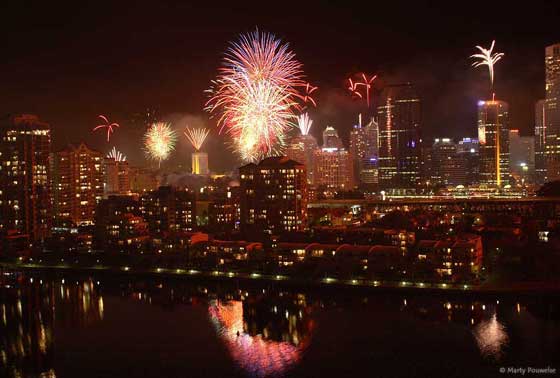 Ballow St flat
Dinner
I had a little house warming dinner with Kylie, Russ, Kethrina and Ray - my 'old' friends from Sydney who live now in Brisbane as well.
The dinner somehow went wrong. I tried Mozzarella cheese instead of Parmesan but it tasted a bit boring because this cheese has no taste at all. My guests were either too polite or didn't care. Anyway - I need to try again if they let me.
Or I will make Zwetschgenknödel. Unfortunately I can't find any fresh plums. You can get any sort of bizarre looking fruits here but no good old european plums. I like those grainy pictures made without a flash.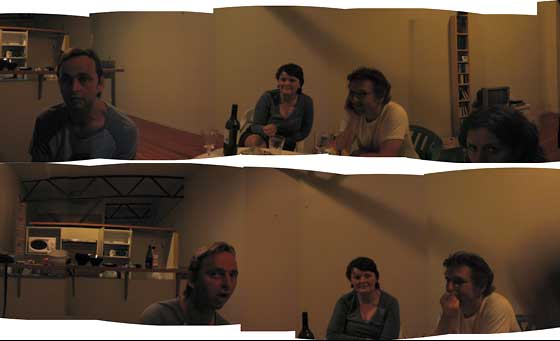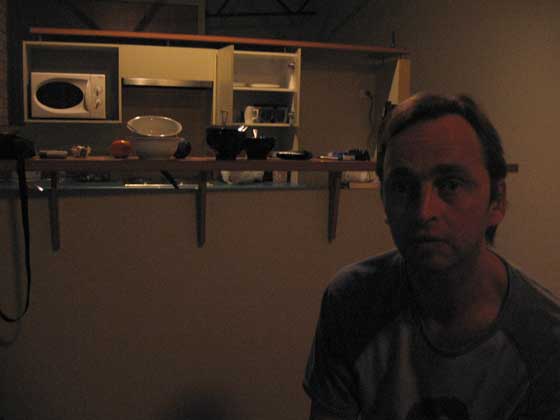 My amazing home entertainment system
I spent a part of my tax return for it. You can see my brand new 68cm LCD TV for only $700. Bargain! - I couldn't really decide if I should buy it and when I went there 2 weeks later with the intention to buy it this time it had dropped a $ 100 again.
It is standing on my great $49 Ikea drawers. I would like to buy another one of them but the ikea store here is about 2 1/2 hours bus drive away.
Ok lets talk about Brisbane bus service: to say it polite - I have to get used to it. In the city there are about a hundred bus stops sometimes 5 in a row, one after each other. To make it complicated bus A stops at the first and bus B stops at the second stop but bus K stops around the corner on the third bus stop there. To find out were bus XYZ stops you may have to walk around for an hour if you don't know where the bus stop for this particular bus is. And asking people does not make a lot of sense. No one seems to know.
I also bought a JVC CD/DVD player with radio and tape for $210 from the cash converter around the corner. Seems a bit expensive but it is actually a good system which costs over $500 if you would buy it new. It plays mp3s as well.
The only bad thing is that my DVD burner for any reason does not burn mp3 CD's. It took me about 20 wasted CD's to find out how I can work around this. (Burn a CD-RW mp3 and then copy it to a standard CD) 3 days live music for free. Unfortunately the weather was a bit wet. This is a girls band I saw when I came back from a BBQ. I don't even know their name but they were pretty good.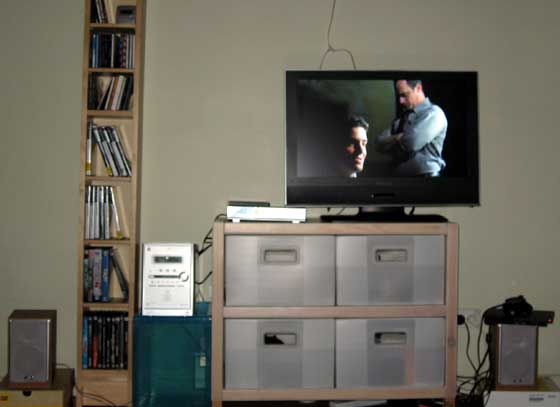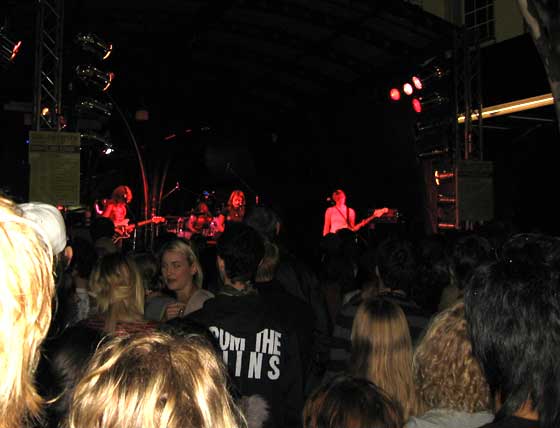 This is a church - but it is a venue for concerts.
Brisbane is what I knew from Sydney when I first visited Australia about 85 years ago. Lots of free concerts and live bands in almost every pub. Aboriginal Dancers at the Valley Fiesta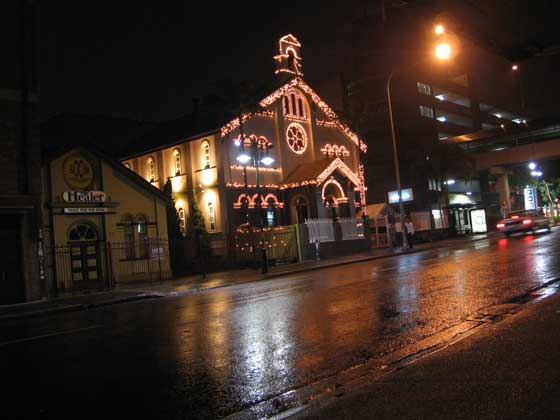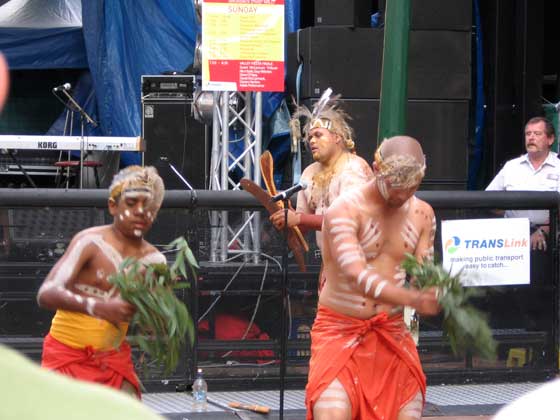 Kate Miller Heidke
One of the Highlights of the Valley Fiesta. She got an education as an opera singer. Now she is doing sometimes funny pop music. And she has a lot of things to tell as well (funny things). My desk at work.
I work with about 42 people in this room. It is a bit full but not too bad.
You can see my work tools. The 24" LCD monitor is really good. On the right side is the XBOX 360 developer kid. It is not much different from a normal XBOX 360 as far as I understand it. The real expensive machines are the debug versions.
The game is also made for PS3 but we - like most developers - stick to the XBOX 360 for the moment because the PS3 developer kid is as large as a fridge and as noisy as a jet engine.
There are 3 girls working in this office. That makes it a ratio of about 13 to 1. 'nough said. The good thing is that it is almost nerd free in here and the average age may be above 30.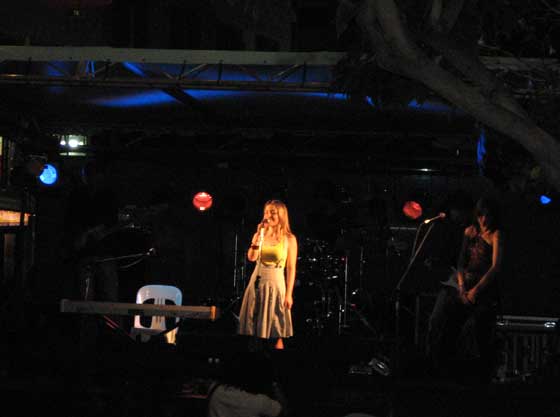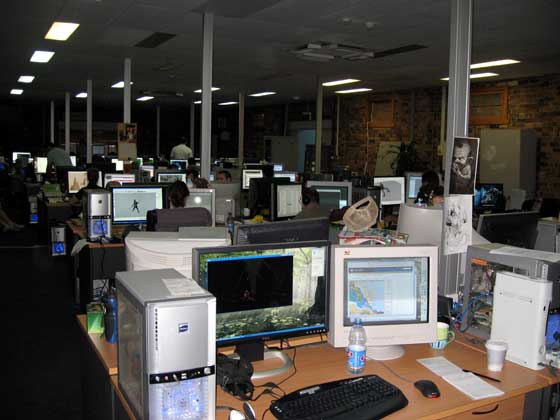 Cars
Cars cars and cars.
Blokes and cars. The Australians don't really understand what a car is for: Get them from A to B. In fact cars are very important for a lot of guys.
I've never seen so many modified cars than here in Australia. It is a bit funny because the speed limit is 110 km/h. So what's the point really? So they cannot drive very fast. They drive very loud instead. Some of these cars wouldn't survive a day in Germany because you can here them 10 minutes before they actually drive by.
If you ask the driver why he drives a modified car like this the standard answer would be: 'the girls like it'. Well - really: that is not true, believe me.
On the other hand Australia is a very old fashioned country. The girls live on one side of the river and the guys on the other side. And if they happen to mix it is mainly for breeding. (They breed a lot here). But after breeding they go back to their side of the river. The boys watch rugby and get pissed and talk about cars while the girls watch big brother and get pissed and talk about guys. no kidding A storm is approaching.
In a way I was hoping for something dramatic. Hail falling down the size of a football. Cows flying around and people getting blown away with their umbrellas.
For a little while it looked like I wouldn't be disappointed but then nothing really happened. It rained a bit and that was it.